Damone Jones can still remember the day his Penn State football teammate, Scott Shirley, told him that Shirley's father, Don, had kidney cancer and that it could not be properly treated because it wasn't profitable. "We didn't really understand how the world works at that point," Jones says. "But to see the father of someone you love not receive the help and treatment that he needs, because it wasn't worth the investment … we couldn't wrap our heads around that sort of negligence."
So Jones '04 H&HD, Shirley '03, '04 MEng, and teammate Dave Costlow '03 IST, '04 MBA took it upon themselves to use the public juice of Nittany Lion football to build from scratch a fundraiser that, in the 20 years since its launch, has raised nearly $1.5 million for rare diseases and spawned additional fundraising platforms that have fueled causes around the world.
"I think we always had visions of it being big and impactful," Shirley says, "but really no idea what it would look like."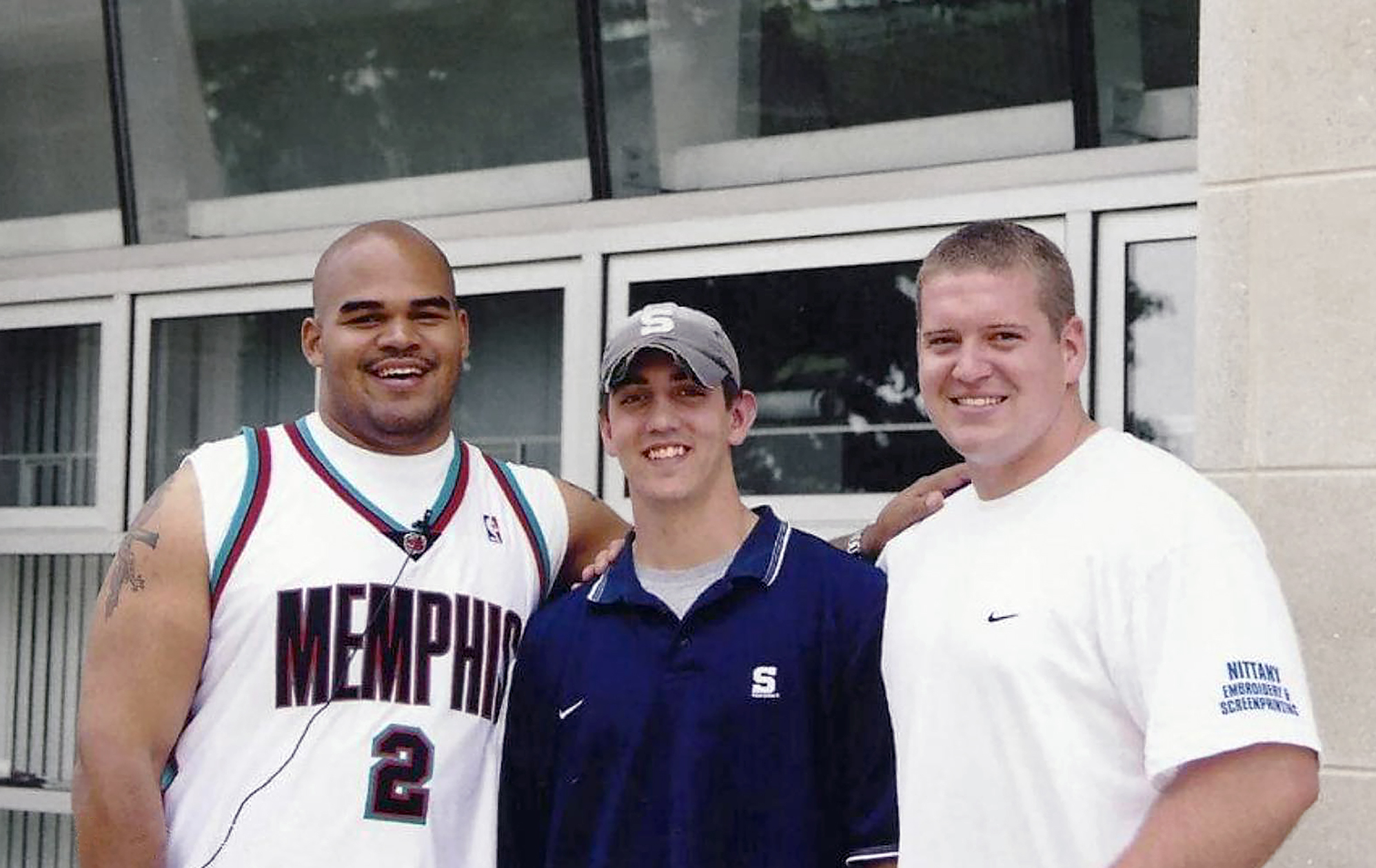 Lift For Life, held this week at University Park (the event was canceled in 2020 due to the COVID-19 pandemic), began in 2003 as a way to take the team's annual summer weightlifting challenge and use it as a vehicle to raise funds and awareness for the Kidney Cancer Association. That spring, the three Nittany Lions—Shirley, a wide receiver, and Jones and Costlow, both offensive linemen—spoke to coaches and administrators in the athletic department about their plan, fearing they would encounter hesitation or outright resistance. Instead, "they found every reason to say yes," Jones recalls, "when they very easily could have told us no."
Deloris Brobeck, a staff assistant at the Morgan Academic Support Center, kept track of the money so that the players themselves wouldn't run into any snags with NCAA compliance. Strength coach John Thomas, who had devised a grueling series of workouts, including giant tire flips and sled pushes that would test the players' physical and mental endurance each July, set up the stations. More than half the squad showed up to participate, and Penn State fans, as the players hoped they might, were happy to support the cause. "It was a player-driven initiative, and therefore when we made an ask it was authentically our idea and we wanted people to support it because we cared about it," Costlow says. "I think that genuine ask goes a long way and the overwhelming support from people we talked to encouraged us, really gave us the confidence to keep asking people to give what they could."
The group learned a lot during the initial Lift For Life challenge, from how to position the exercises so that fans would see the players' faces and not their backs to creating a succession plan so that the event could continue after they graduated. The players raised $13,000 that first year, and when the 2004 total tripled that figure, "that told us we had to make sure it was something that could last," Jones says.
In 2007, the three players formed a 501(c)3 nonprofit organization called Uplifting Athletes. Shirley quit his job as a construction engineer to grow it into a platform that helped athletes at Penn State and other institutions around the country raise money for their own charitable causes. "This was no longer about raising money for cancer," says Jones, who currently works in education business development for Apple. "This was about helping college athletes understand that A, they have a responsibility to do some good with the spotlight they have but more importantly, B, here's a model for it."
In 2014, Shirley founded Pledge It, a company that helps nonprofit organizations and individuals launch fundraising campaigns. Costlow joined him in 2016 and became chief operating officer in 2020. Pledge It currently raises $100,000 toward causes worldwide. Its roots, like those of Uplifting Athletes—which now has active chapters at more than two dozen schools—began in the summer of 2003, and the lettermen who planted those roots remain humbled by what has transpired since. "I think our vision was quite different from what it looks like today," Shirley says, "but that's a testament to all of the people who have bought into the cause and left their fingerprints on it."