As babies, they were distinguishable only by the gold name bracelets their parents placed around their tiny wrists. Decades later, it's still almost impossible to tell them apart: Their mannerisms, their vocal timbre and cadence, are so similar that if you didn't know they're identical twins, you could run into Elana McDonald at the post office or the supermarket and easily mistake her for Delana Wardlaw—and vice versa. That they're both doctors—McDonald is a pediatrician, Wardlaw a family medicine physician—only adds to their cachet.
"There are so many people who still have not encountered an African American physician," Wardlaw says, "so it's even more intriguing to them that we are both physicians."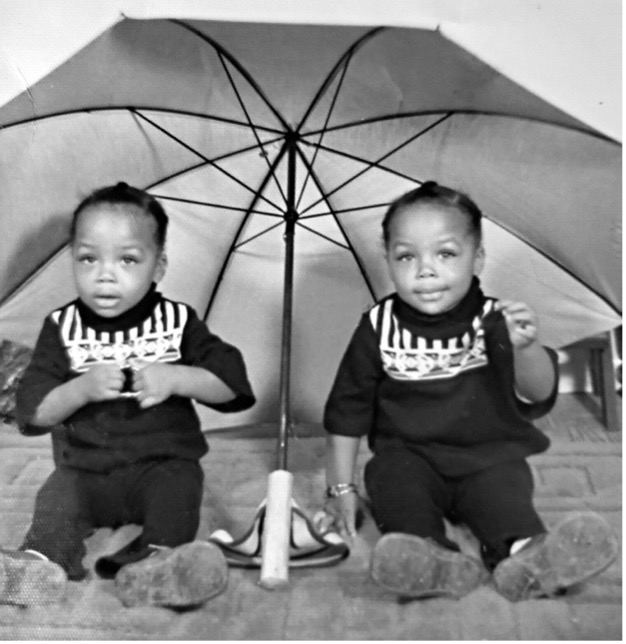 The mystique of being identical twin sisters and doctors is just as captivating virtually as it is in Strawberry Mansion, the north Philadelphia neighborhood that McDonald '00 MD Hershey and Wardlaw '00 MD Hershey grew up in, and where they both practice, serving a diverse clientele of predominantly Black, LatinX, and immigrant communities from Asia, Africa, South America and the Carribean. In February 2020, shortly before the COVID-19 pandemic, they launched Twin Sister Docs, a website and social media presence aimed at providing information and education on a range of medical topics to Black people and other minorities conditioned, the sisters say, by the longstanding dual afflictions of a lack of access to proper medical care and a historical distrust in the medical establishment.
When they made their online debut, the twins had no idea that the pandemic and everything associated with COVID-19—masks, masking mandates, vaccines, vaccine hesitancy, the virus's disproportionate impact on minorities, and much more—would dominate their weekly Instagram Live feeds for months. Nor did they know that their online presence would quickly capture the attention of major news outlets including The Philadelphia Inquirer and The Philadelphia Tribune, along with local radio and major television networks. They appeared on Good Morning America and were featured in People magazine. They partnered with Walgreens to discuss the COVID-19 vaccine on the pharmacy's website, and they were also sought after by organizations like AARP, Pfizer, and the Pennsylvania Academy of Family Physicians to talk about the impact of the pandemic on minorities, and about their work in educating the communities they serve about COVID-19, the vaccine, and other medical issues.
Being twins helped thrust them into the media spotlight, increased their visibility, and gave them a platform from which to strengthen their goal of improving access to quality, equitable health care and education for underserved communities—and McDonald and Wardlaw are happy to make the most of that. They love being twins. Inseparable as children, they cried and begged to be together in elementary school when their parents tried to put them in separate classes. They dressed identically until third grade and have had the same taste in clothes thereafter; until fairly recently, they even wore their hair the same. They had the same circle of friends in high school and at Temple University, where they were both undergraduates, and apart from a brief dalliance with the idea that she might become a lawyer, McDonald also chose to pursue medicine, attending Penn State's College of Medicine with her sister.
The twins say that their grandmothers motivated them to become doctors.
"Our maternal grandmother died of breast cancer at the age of 53," Wardlaw says. "If diagnosed at an early stage, she would have had a significantly higher chance of survival. Realizing that she didn't have a lot of trust in the medical system, that she didn't have good access to care, inspired us to become doctors."
The twins' paternal grandmother was a labor and delivery nurse. When they were younger, they would often drop her at the hospital where she worked the night shift. Wardlaw says being able to see her on the job emboldened them: "It gave us exposure at an early age, which was critical, the feeling that yes, we can do this, too."
"We've lived both sides of the African American experience," says McDonald. "We understand the lack of access to care, the historical distrust that our community has in the medical system. But we also know we can help change things. We can educate and empower people in our community."
Their mother also worked in the medical field as a phlebotomist. "She always treated her patients with dignity and respect and this was one of our earliest exposures to a great bedside manner," Wardlaw says.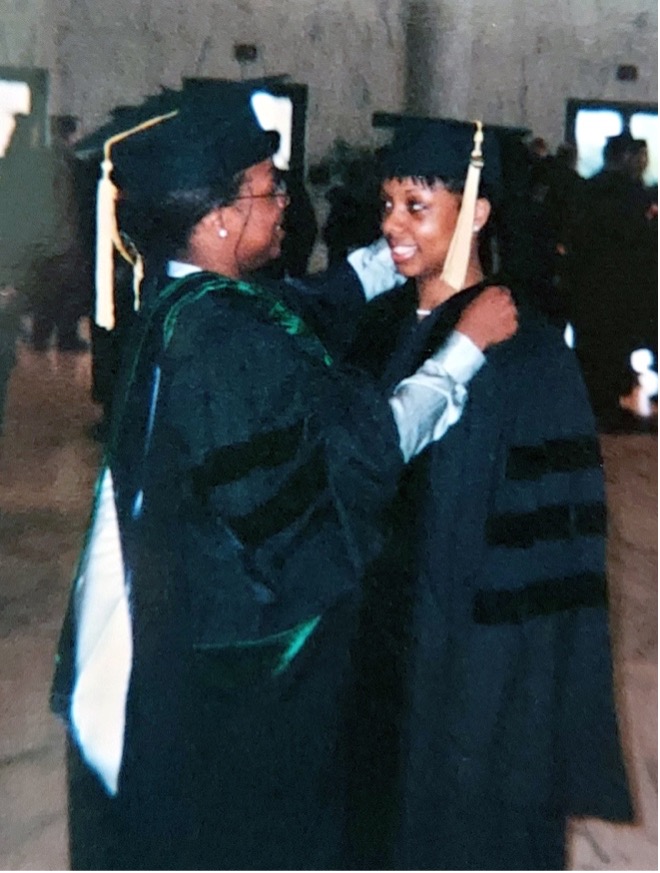 From their earliest days in the profession, the sisters have taken their self-described "twin personas" of friendly neighbors and board-certified medical professionals onto the streets of their neighborhood. They're grounded in their community, Wardlaw says, dedicated to serving the constituents who "helped mold us into the physicians we are today." Through the years, they've run vaccine clinics in local schools, participated in community health fairs, and partnered with local youth clubs for boys and girls, addressing such topics as nutrition, obesity, overall health and wellness, vaccines, and hygiene. The grassroots work is important to them not only because it provides medical care to those who really need it, but also because it encourages vital conversations around medical care. McDonald and Wardlaw also hope that being visible in their community will inspire younger generations of African Americans and make them believe that they, too, can become doctors.
"Representation matters," Wardlaw says. "Right now, approximately 5% of physicians in the U.S. are African American, and only 2% are African American women. Also, many people in our community feel more comfortable or more connected with somebody that they have something in common with, someone of the same ethnicity."
Since they launched on social, Twin Sister Docs has steadily built a following, including more than 6,500 followers on Instagram and over 30,000 on Facebook. Most importantly, their online presence has given the sisters the opportunity to extend their reach beyond the typical 15-minute slot given to patients in their offices and continue important conversations in the community.
"You know, in the office we're both under this time crunch—the patient, the physician—and that can reduce the time allotted for patients to ask questions," Wardlaw says. "When patients don't have a clear understanding of what's going on, this can decrease compliance and ultimately affect the desired outcome." Encouraging their patients to ask questions is very important to the twins, McDonald says, and to their ultimate goal of what she terms a "transformational outcome" for both patients and physicians, one in which patients become better aware of their health and are better equipped to have a conversation with their doctor about their conditions. And social media is a great way for the sisters to provide accurate medical information to their patients, particularly for younger audiences.
"During the pandemic, I would give my patients the spiel about the COVID-19 vaccine in my office, and then I would tell them to follow Twin Sister Docs on social media, since we were always talking about the vaccine at that time," McDonald says. "When patients did follow us, they could get updates there as well from us, they could ask us more questions."
Seeing their doctors in the media and online did help move the needle, the twins say, and encouraged some of Wardlaw and McDonald's patients to overcome their resistance to the COVID-19 vaccines and boosters. The twins believe that publicizing their personal vaccine status online, sharing the fact that they and their families all are vaccinated and boosted, helped increase confidence levels among their patients and other followers. "We wanted people to know that we would not offer them anything that we are not recommending for ourselves and our family members," says Wardlaw.
As pandemic restrictions eased, the twins continued to talk about the virus and the vaccine, but they have also been populating their social media feed with videos and postings on other health topics pertinent to the African American community: diabetes, high blood pressure, and heart and mental health.
"We do short postings and videos to remind people of important things," McDonald says. "If it's breast cancer awareness month, for example, we'll ask them if they got their mammogram. For cervical cancer awareness month, we'll remind them to get a pap smear. We now have people's attention and we want to make sure that we're using that attention to give them accurate medical information to take back to their regular physicians and have a discussion."
The pandemic highlighted deep health care disparities that have existed a long time, the sisters say. Now that they're in the spotlight, they have the opportunity to play a bigger part in reducing those disparities by educating minorities and helping them become advocates for their own health care. McDonald and Wardlaw have also set up the Twin Sister Docs Foundation, Inc., to engage health care institutions, community organizations, and government entities as partners in the long journey toward creating a more inclusive health care system.