The remarkable career of track and field athlete Henry Norwood "Barney" Ewell was lined with "what ifs." But the "what weres" still made the Lancaster, Pa., native one of the most accomplished American athletes of his generation.
In November, the Barney Ewell Legacy Committee honored Ewell '47 H&HD with a statue unveiled in Ewell Plaza in downtown Lancaster. "When you look at his total life, he was an incredible human being," says committee member and former Lancaster Mayor Arthur Morris.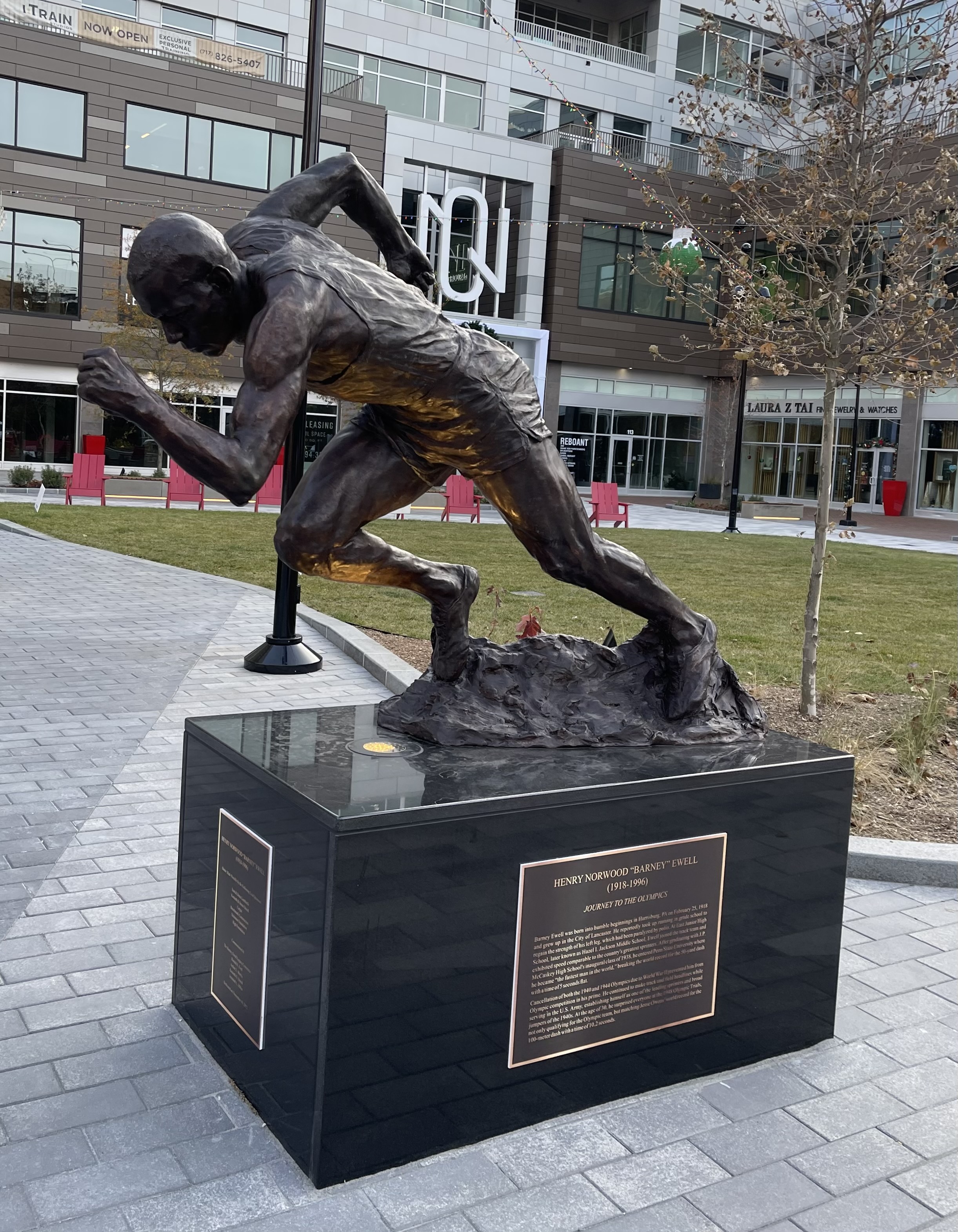 Born in Harrisburg, Ewell took up running to rehabilitate his left leg, which had been partially paralyzed by polio. He starred at Lancaster's McCaskey High School and then at Penn State, where he broke a world record in the 50-meter dash and won NCAA championships in the 100- and 200-meter races in both 1940 and 1941. He missed qualifying for the 1936 Olympics by one spot, and like the other athletes of the day watched as the 1940 and 1944 Games were canceled due to World War II. (Ewell himself served in the Army in the war from 1941 to 1945.) In 1948, at age 30, he tied Jesse Owens' record in the 100 while qualifying for the 1948 Games, where he took silver in the 100 and 200 and, after being added as a last-minute replacement to the 4x100 relay team, helped that team to a gold medal. He died in 1996 at age 78.
Morris '68 Eng, who was a team captain in cross country and track and field at Penn State, worked with Ewell's nephew, Ron Ford, and other committee members to create Barney Ewell Week in 2018 to commemorate what would have been his 100th birthday and to successfully petition the United States Olympic Committee to send a replica gold medal that was given to Ewell's daughter, Denise, during the statue commemoration.
Recently, Morris heard from a friend who had watched a young child stand next to the statue and imitate Ewell's pose. "I'm hopeful the impact will be what we want it to be," Morris says, "and people will get to know who Barney Ewell is."
Editor's Note: A previous version of this story incorrectly said that Ewell broke Owens' record in the 100-meter dash. We regret the error.