Change Is Good
The "Twists & Turns" article ["Change for the Better," March/April, p. 42] about Penn Staters who change their majors was excellent! It prominently featured Penn State's outstanding Division of Undergraduate Studies program, where students can go to discuss various majors, curricular choice, academic progress, and related issues. Many Penn State students found their academic way through DUS and the devoted staff who work there.
Thomas P. Murt '82 Bus
Hatboro, Pa.
East Halls Memories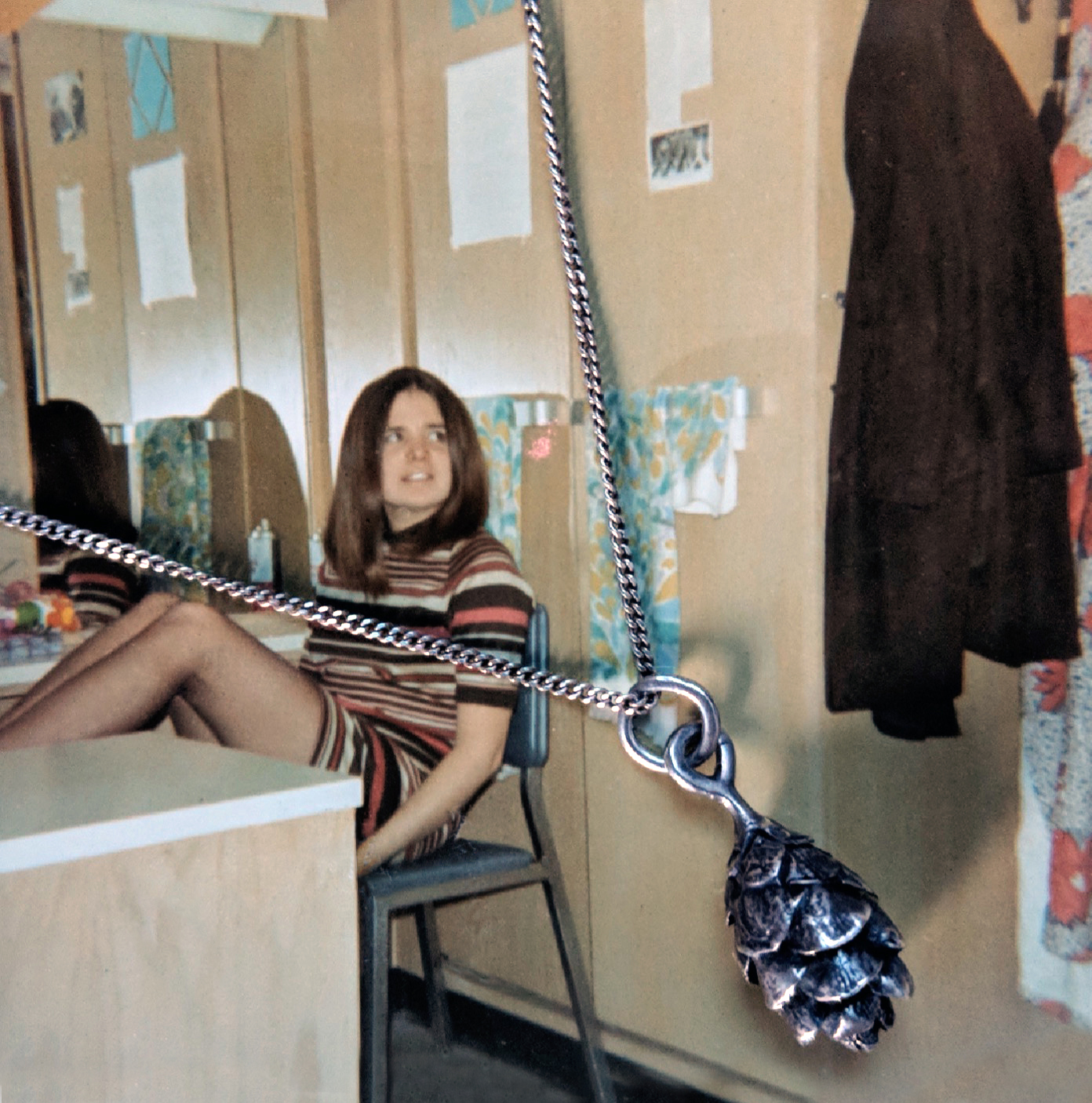 I am happy for the students who enjoy renovated facilities in East Halls ["Time Machines," March/April, p. 7]. However, I would never want to see the new version of my room, 713 Curtin Hall. I lived in that room with my best friend from high school for three years. Many of the girls on our floor stayed, too, eschewing sororities or apartments. We are bonded to this day—forever "Curtin Cuties." I want it preserved as it is in my memory: the orange and brown dreadful drapes, Beatles pictures and lyrics all over my bulletin board and closet door, our bathrobes and coats hanging on the hooks, one side a mess, the other side pristine. 
My son gave me a most precious gift: He went to Curtin and found a tiny pine cone on the ground. He had it cast in silver and made into a necklace for me. "You will always have Curtin and PSU close to your heart." And they are and always will be.
Coreen Steinbach '72 Edu
Pompey, N.Y.
Your article inspired me to write about living in Pinchot Hall in 1978 and 1979. Memories of communal living were vital to my collegiate experience. We were a tight-knit community living undistracted by cellphones, personal computers, or social media. When not studying, our chief source of entertainment was interaction with our roommates or the people that lived on our floor. I remember residents gathering in my room to watch The Dating Game, and large groups of us would go to the dining halls for meals and attend parties in the study lounge.
Although enjoyable memories dominate my experience, I'm sure my fellow residents vividly remember our numerous contacts with campus police. Vending machines were damaged, false fire alarms and bomb threats were reported, and fires were set in janitor closets. Even worse, a piano was dropped from the 10th floor of the elevator shaft, and later, an elevator was destroyed by fire that was determined to be an arson. The window of my room at 515 Pinchot exploded one night while my roommate and I were at our desks when someone apparently drove a golf ball from the area of Geary Hall. Thankfully, an arrest was eventually made. The pleasant memories and the discomforts of dorm life alike—even the long frigid walk across Lot 80—made for the quintessential college experience.
Scott Pellman '80 H&HD
Mechanicsburg, Pa.
In the fall of 1963, I moved into East Halls "A." Having names is an improvement, but it sure was easy to keep track of the buildings when they had letters. In my second year I was in Pollock Halls "C."
Looking at current pictures of the residences, I see the buffet that is available for meals. We had a cafeteria line with two choices—take it or leave it. I think I'm exaggerating! I recall that there might have been two choices of entrees and two choices of dessert, but you chose one, not one of each. We felt blessed that there were milk dispensers in the dining area, and on special days, one of the choices was chocolate milk! Thanks for stirring wonderful memories.
Robert "Bob" Crawford '67 Eng
Kingston, Ontario, Canada
Farewell, Franco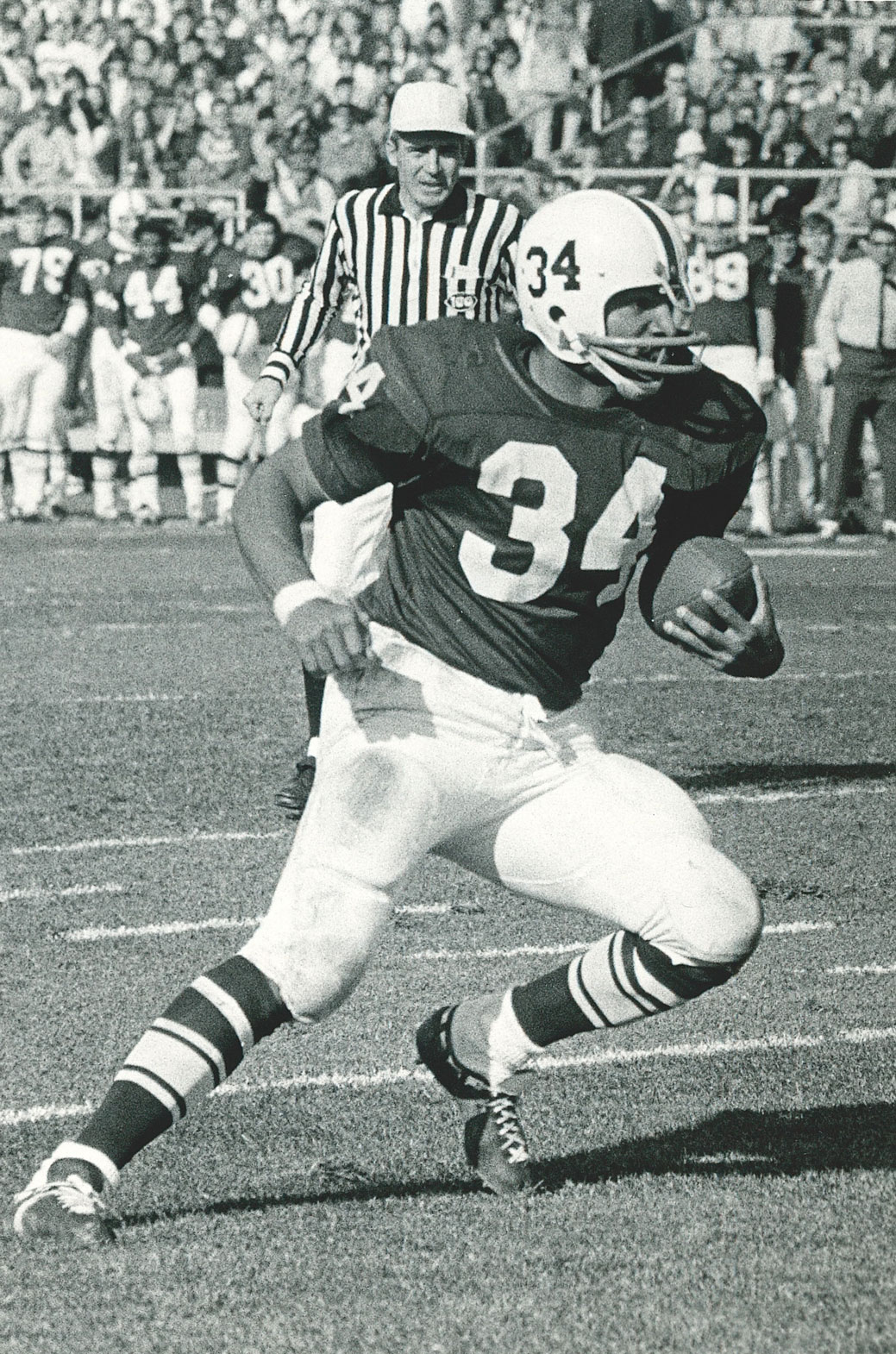 What a surprise when I read the article on Franco Harris in the March/April issue ("Fan of the People," p. 52). I have been a fan of Franco since my sophomore year in 1971. It was only when I read the article that I realized his mother Gina and I shared the same last name. I knew she was from Italy and that his father met her there during World War II. But perhaps the bigger surprise than finding out that we may be related, however doubtful that may be, was how more than 50 years could go by before I became aware of it.
Domenic Parenti '72a, '74 Hbg
Wernersville, Pa.
Weather World
This story ["Atmospheric Traditions," March/April, p. 34] brought back memories of the day Joel Myers walked into the Daily Collegian newsroom, then in the basement of the Carnegie Building, and suggested we run a daily weather forecast, which he would supply. Little did we realize that more than a half century later we would be clicking on Joel's AccuWeather phone app.
Gloria Johnson '61 Com
Mahwah, N.J.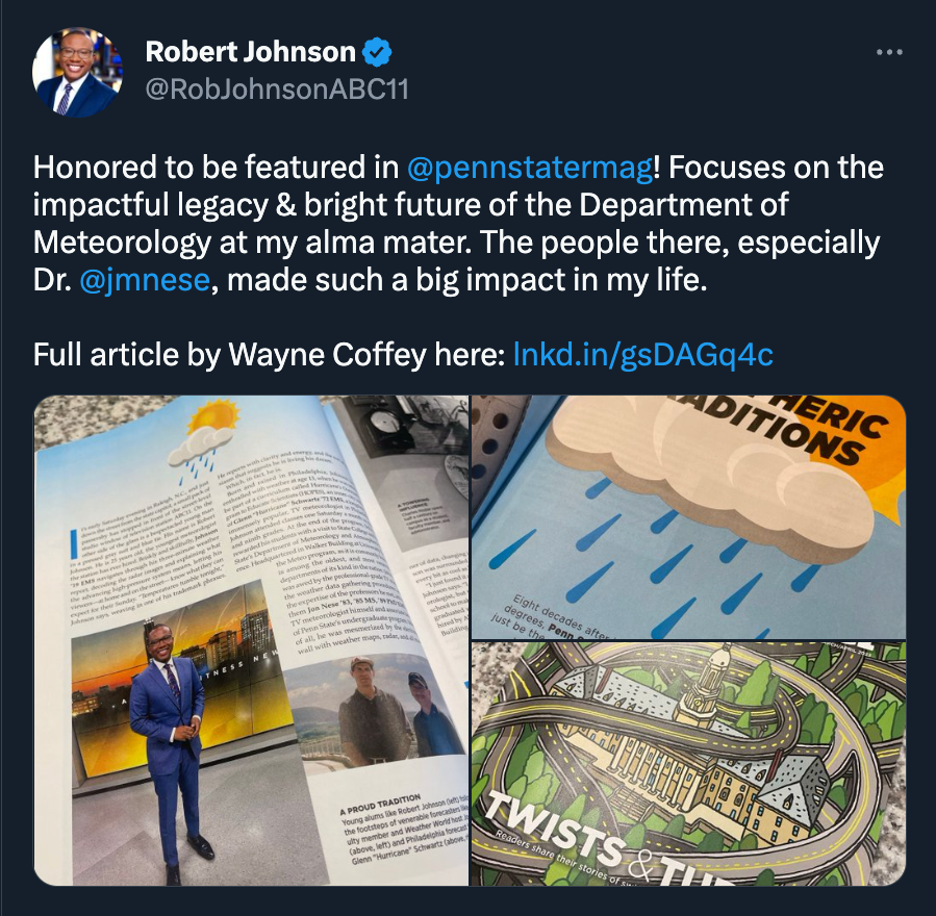 Glory Days
I was at the meet when Penn State won its first wrestling title ["First of Many," March/April, p. 31]. Hud Samson was a fraternity brother of mine, as were four others on that team. When Hud pinned Chuck Weber, the crowd went wild, except for the young woman seated in front of me. She was crying, and when I asked her why, she said, "He just pinned my husband!
Ted Jackson '54 Eng
Lancaster, Pa.
DEI Debate
Often when I read the letters in the Penn Stater, I am disappointed to see folks express a resistance to DEI policies, or possessing a lack of either basic understanding of, or compassion for, the inequities in our country—a basic refusal to acknowledge that the playing field is still uneven. Not that I was so invested in social justice as a student, but decades later, I certainly recognize the benefits I've received all my life as a white person. I am glad the Penn Stater lifted up university DEI initiatives ["Equitable Goals," Jan/Feb, p. 26]. Knowing that there is effort here, from Penn State and from your magazine, gives me incentive to keep reading, despite my disappointment, and some hope that the next generation will do better than mine has.
Carol Breslin '84 Bus
Downingtown, Pa.