The running back who made mincemeat out of opposing defensive lines stood before the Heisman Trophy dinner audience with tears in his eyes.
The fellow who made a habit of smashing through 260-pound behemoths on the gridiron found difficulty expressing the depth of his feelings about the courage of an 11-year-old boy.
There's someone who deserves the award more than I, said the young man who had been the most outstanding football player in the nation. "It's more his than mine because he's been an inspiration to me."
"If I could dedicate this trophy to him tonight and give him a couple days of happiness, it would mean everything to him."
Finding the right words on this occasion was tougher than ploughing through any goal-line defense, and he pulled out his handkerchief and cried into it.
"For me, it's a battle only on the field and only in the fall. For Joseph, it's all year round.
"He never complains. He never asks why. But he refuses to give up. He's been through so much that it makes me feel what I go through—and then the rewards I get in return—well, it's all so small compared to him."
With these moving words, Penn State All-American John Cappelletti dedicated the coveted Heisman Trophy to Joseph, his 11-year-old brother stricken with leukemia.
Joseph Cappelletti's illness was diagnosed six years ago at Philadelphia Children's Hospital, where there were 46 other youngsters afflicted with the disease. Joseph is the only one still alive. He goes to the hospital every other day to take shots. There are painful bone marrow tests, too. At times he has been in a coma for weeks.
Before dedicating the trophy to his brother, Cappy had paid tribute to the other members of the Cappelletti family, especially his mother and father.
"There isn't a greater couple in the world," he told the 4,000 persons in the Grand Ballroom of the New York Hilton, including Vice President Gerald Ford, previous Heisman Trophy winners, and innumerable dignitaries from the sports world.
"At one time I couldn't walk without  tripping. My mother helped me through that and she helped all of us through a lot more. My father is a quiet, strong man. I could have no greater respect for this man."
He cited his other brothers, Marty and Mike, and his sister, Jeannie, "who were always behind me when things were rough."
He thanked his coaches (high school and college) and his Penn State teammates.
"My teammates—I haven't been closer to any group of people than I have to them. It takes a lot of hard work and I'm glad I could contribute."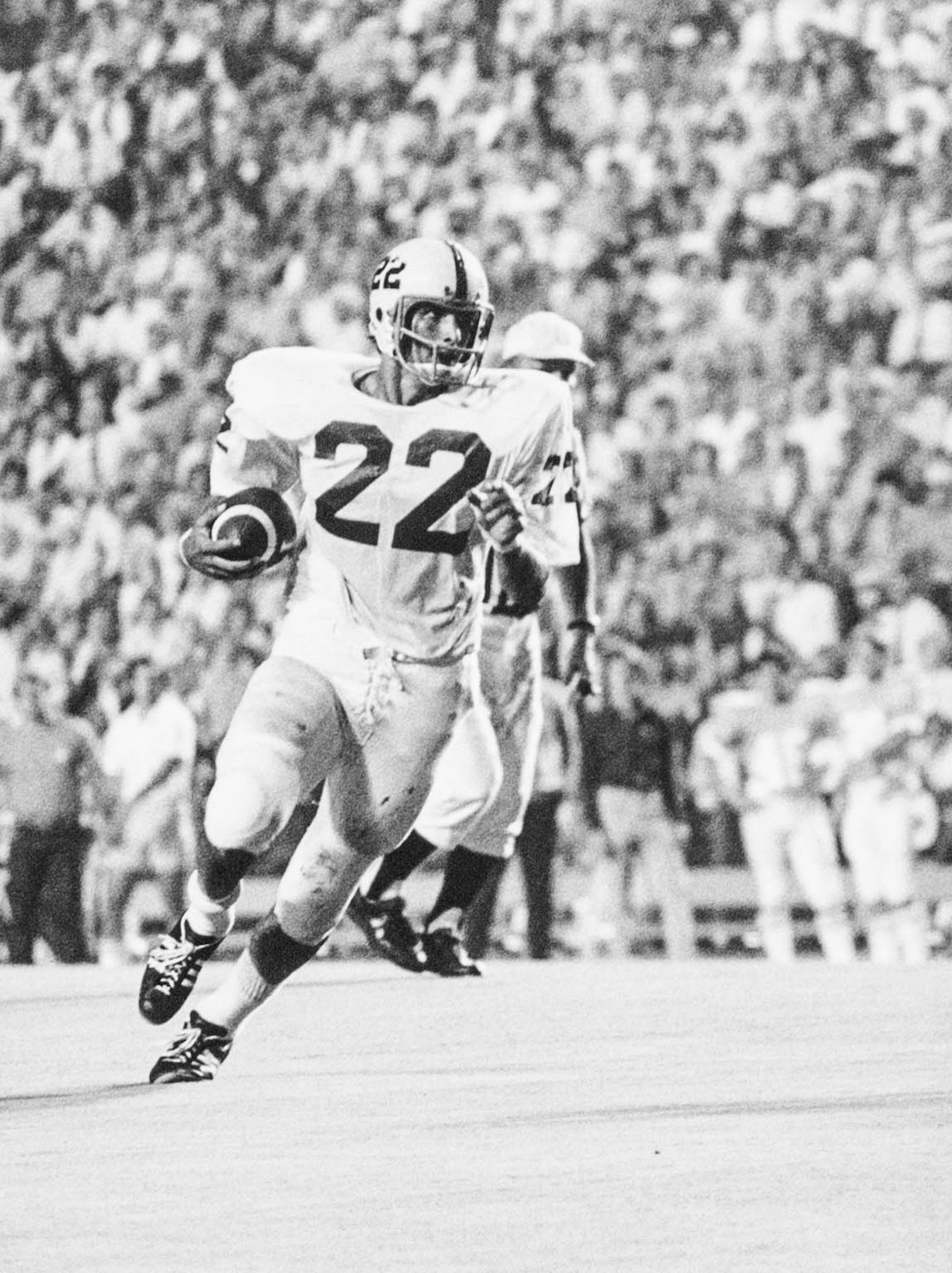 Cappy said it was a hard decision to choose Penn State over all the other universities interested in him. But Joe Paterno made the difference. "When he came to my house, I think that besides recruiting, he was after a good Italian meal.
"My brother Joe was lying on the couch. He was sick then, sicker than usual. Coach Paterno showed more concern for him than he did in recruiting me."
When Cappy finished his remarks, Archbishop Fulton J. Sheen rose to give the benediction. Looking out on 8,000 tear-stained eyes, he said:
"Maybe for the first time in your life you heard a speech from the heart and not from the lips. Part of John's triumph was made by Joseph's sorrow. You don't need a blessing. God has already blessed you in John Cappelletti."
Hail the Heisman
He's been described as a Jim Taylor with speed; a Vince Lombardi type player; a nice guy respected and admired by his peers. He's also the best player Joe Paterno has ever been around. And now he's Penn State's first Heisman Trophy winner.
That's John Cappelletti, the softspoken workhorse tailback who led the Nittany Lion gridders to their third straight Lambert Trophy, third straight major bowl game and third straight Top Ten finish in the national polls.
Penn State has had many outstanding football players throughout the years. Three recent ones—Mike Reid, Lydell Mitchell and John Hufnagel—were in the running for the Heisman award during their senior years. But it was the Upper Darby Italian Iceman who finally brought the coveted bronze statue—symbolic of the nation's best football player—to the Nittany Valley.
The law enforcement and corrections major, who spent his summers selling ice cones to neighborhood kids, was the first player from a Pennsylvania school ever to win the award and the first one from an Eastern college since Roger Staubach of Navy in 1963. With 229 first place votes and 1,057 points from the 819 sportswriters and broadcasters participating in the balloting, Cappy more than doubled the total of his nearest competitor, Ohio State's mammoth tackle John Hicks.
And Cappy's coaches, teammates and opponents think that no one is more deserving of the award. He's not only an All-American football player, but an All-American nice guy. Let his All-American teammate, tackle Charlie Getty, tell it:
"One of the great things about him is that with all the attention he's been given, all the awards and things, he still doesn't look upon himself as something special. I think that speaks highly of his character. There's a lot of love on this team, there are no 'hot dogs,' and he's a part of that. With him everything has always been for the team."
"He's very humble and very appreciative of everything that's done for him. And he's one of the hardest working players we've had here," said head trainer Chuck Medlar. "He can joke about himself and he doesn't take the praise too seriously."
"He's quiet and he never complains about anything," said his father, an Upper Darby carpenter who never played sports. "He's never played football just for the glory. He gets along with everybody."
"He was the ideal boy to coach because he always practiced well," said assistant coach Bob Phillips. "He always had the team foremost in his mind; he never worried about records."
That was evidenced in the Syracuse game when he didn't touch the football. Cappy was too hurt to run with the ball, but Syracuse didn't know that. So Coach Paterno sent him in for the first series of downs as a decoy, while fullback Bob Nagle carried the ball. Cappy could have had a record per-game rushing average of 152.2 yards in 10 games, if he had not appeared against Syracuse. But the official statistics show his average as 138.4 yards in 11 games, because the team came first.
But Cappy is the first to acknowledge his debt to others. The Heisman award, he said, was "for many people besides myself. There are a lot of people who have done a lot for me—the team, and all my family and friends at home and at school."
He had to work hard to achieve stardom and he continually expresses gratitude to those who helped him along the way.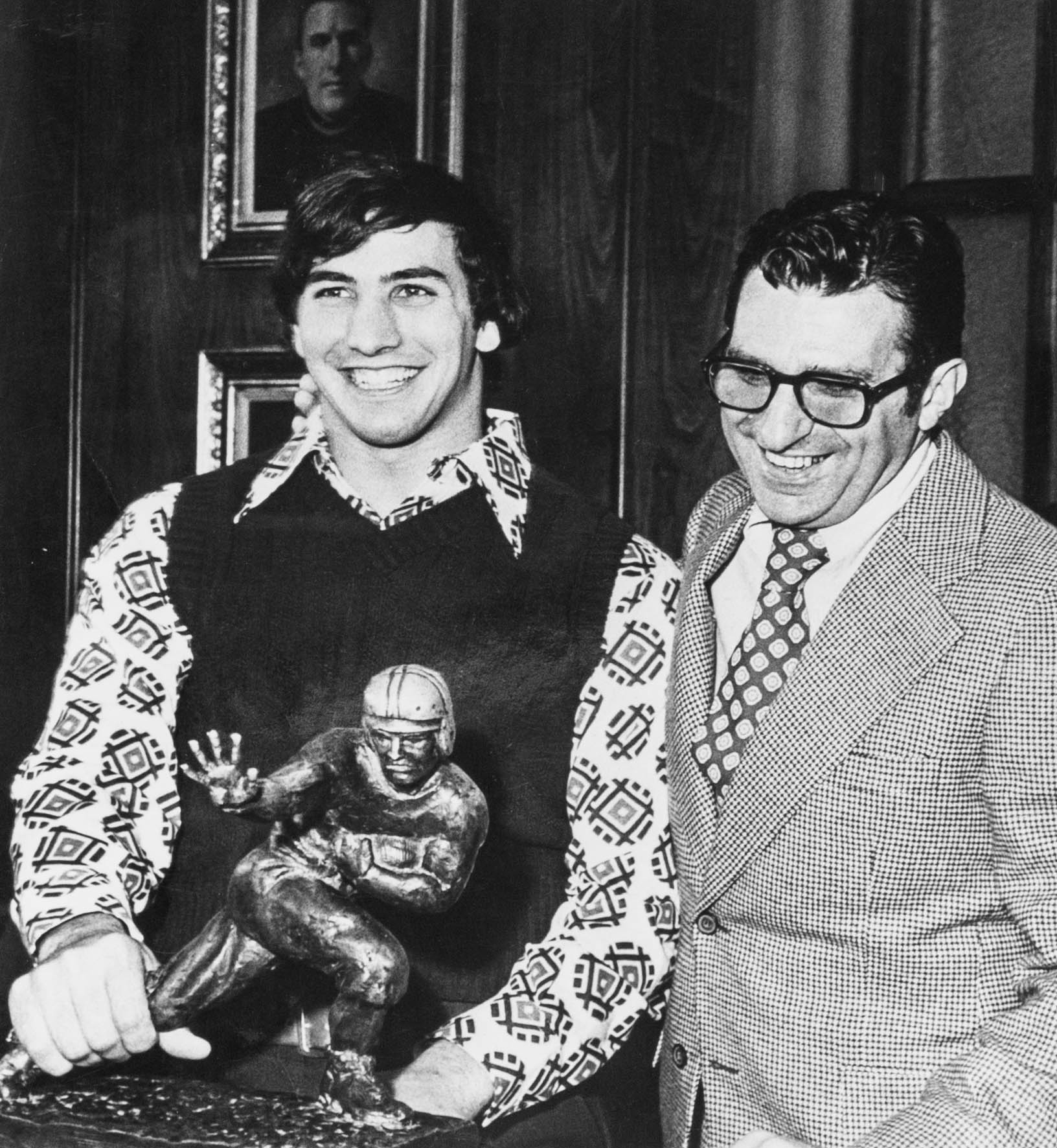 Fans attending the Pennsylvania Big 33 high school all-star game in August 1970 saw so much highly publicized offensive talent that they may not have noticed the hard-nosed kid from Monsignor Bonner High School who played solidly but unspectacularly at outside linebacker.
But the Penn State coaches noticed. And when Cappy was a sophomore, they started him in the defensive backfield because they had All-American senior Lydell Mitchell lugging the pigskin. The only running Cappy did that year was returning punts. And too often he forgot to take the ball along with him, causing caustic remarks in the stands about his "fumblitis." But the coaches maintained their confidence in him, and it paid off. During his two years at tailback, he seemed to get stronger every game. His durability was amazing. The only cost to Penn State was for the icepacks that soothed his bruised muscles each Saturday evening.
He carried the ball more often than any Penn Stater in history—519 times. He also set the record for rushing attempts in one season (286) and in one game (41 against North Carolina State). He stands behind only Mitchell on the all-time ground-gaining list.
Cappelletti is also the first Nittany Lion to rush for more than a thousand yards in two consecutive seasons (1,117 in 1972 and 1,522 in 1973). And he is the kind of runner who should do well in the pros because he is not only fast but runs over people and carries tacklers with him wherever he goes.
"Cappy is like having a second offensive line," said Lion tackle Phil LaPorta. "We knock people down at the line and he comes along and knocks them down again."
"He's the greatest offensive player I have played against," said Stanford safety John Blanchard.
"He's a great athlete who worked hard all season," Coach Paterno said. "He has great poise, an innate confidence and the ability to get people to do things with him. The Heisman Trophy is a just reward for a very worthy young man."
This story first appeared in the January 1974 Penn Stater. Cappelletti's brother Joseph died in 1976, a little more than two years after his big brother's Heisman win.