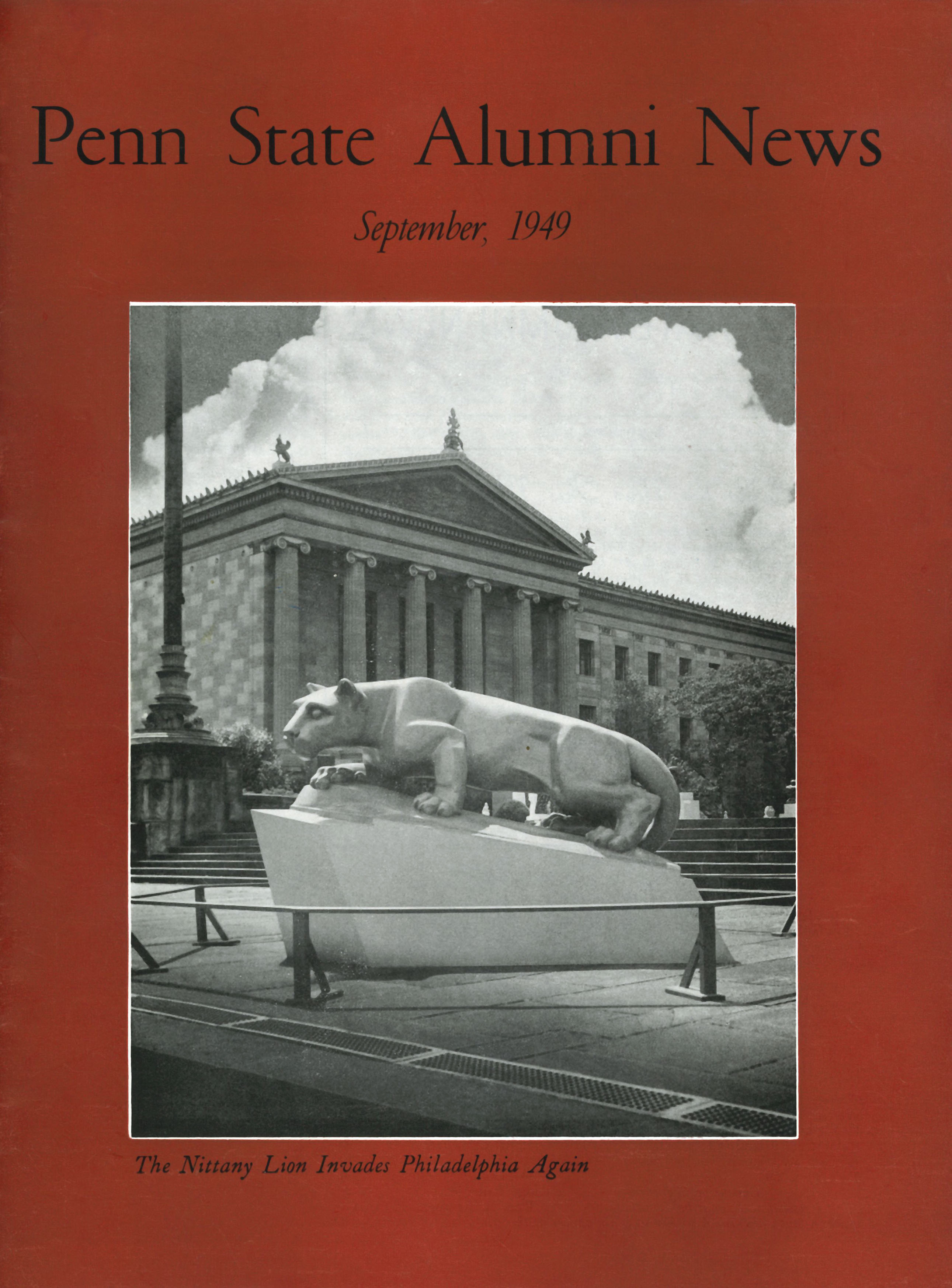 A lull falls across Beaver Field … it's halftime and the crowd relaxes for a moment from the tension of the football game … suddenly a loud fanfare breaks the calm as a veritable streak of blue flashes down the field to the familiar accompaniment of "Hail to the Lion." It's Penn State's famous Blue Band … discussed and praised wherever loyal Penn Staters get together.
But it wasn't always like this. Penn State hasn't always had a band. In fact the only musical organizations on campus prior to 1899 that in any respect resembled a band were small fife and drum or drum and bugle corps that functioned at various times as a part of the military organization. These did not have official college sanction.
Then, just 50 years ago in the fall of 1899, a Cadet Bugle Corps as organized following a period during which there was none at the College. It is destined to go down in the history of Penn State as the immediate forerunner of the first band.
Deike and His Bugle
This Cadet Bugle Corps had its beginning in September 1899. In those days, male students took four years of military tactics and Old Main was a barracks dormitory. One Sunday morning as Commandant of Cadets Capt. T.H. Taliaferro was marking his weekly inspection of barracks rooms, he discovered a bugle hanging on the wall of George H. Deike's room. He questioned Deike and upon finding that he had been a regimental bugler in the Spanish-American War, instructed the boy to report to his office on Monday and bring his bugle.
As a result of the demonstration of his ability that Deike gave there, he was appointed chief musician and added to the non-commissioned battalion staff. Authorization was given to organize a bugle corps if qualified members could be found.
Thus by Oct. 1, 1899, the Cadet Bugle Corps was in full operation with the following personnel: buglers George H. Deike '03 (seated left in top photo), E. E. Godard '03 (standing third from left), Percy M. Snoeberger '03 (seated right) and Edwin R. Norris '03 (standing far right); John M. Craig '01, bass drum (standing far right); and Fred P. Dodge '03, snare drum (standing second from left).
The Corps continued to the final dress parade on Commencement Day in June 1900. During the year frequent conferences were held by the members concerning the organization of a Cadet Band. They were very anxious to have one but did not know how to obtain the funds necessary to purchase instruments. They canvassed the student body and found 25 students with some band experience.
About half of these had their own instruments, so with the help of Capt. Taliaferro, the Corps members drew up a petition to the Board of Trustees requesting funds to buy 12 instruments. But the executive committee of the Board replied with regret that no College funds for such purpose were available.
Carnegie Aids Band
However, Gen. James A. Beaver, president of the Board of Trustees, had long been in favor of a band. He and Dr. Atherton, president of the College, each contributed $50 to start a brass band fund. After contributions had also been received from several other men, Gen. Beaver wrote to Andrew Carnegie, telling him of the campaign and asking for $100. In reply he received the following letter:
"My Dear Governor:
Please let me furnish the music for the College boys. I have directed my cashier to send you a check for eight hundred dollars."
So in December 1900, the Executive Committee of the Board accepted the donation, giving official permission for the formation of the Cadet Band. Dr. G.G. Pond was named treasurer, representing the College administration and handling the finances.
First Officers
The original band had approximately 23 members. Its officers were: G. H. Deike '03, president; E. E. Godard '03, secretary and band-master; and F. P. Dodge 03, drum major.
According to an item which appeared in the Free Lance (Collegian's predecessor) dated February-March 1901, the band had already appeared in public on several occasions, had a competent instructor, and practiced frequently.
From that time to the present, the College has had a band. Although it functioned at the beginning as a part of the military organization, it is now supported by the College and student funds.
A well-known name in the annals of Blue Band history is W. O. Thompson, who was its director from 1914 until his retirement in 1939. Under his guidance, it gained wide recognition for fine music.
Hummel Fishburn, now head of the department of music, took over the direction of the band upon Thompson's retirement. It was he who inaugurated the fast marching pace for which the Blue Band has become noted, and also its tricky formations which provide halftime entertainment at all home football games and many games away from State College.
Fast Steppers
According to Professor Fishburn, there are several other college bands which use a faster pace than the Blue Band, but they do not take a full step, as it does. The rate of the band as it marches down the field is 148 to 152 steps per minute. It has been rumored at times that the football team is composed of boys who aren't fast enough to make the Blue Band.
The band now functions as two overlapping units: the marching band of 80 members which is active during football season; and the concert band of 90 members to which girls are admitted and which presents several concerts during the winter and spring. James Dunlop, assistant professor of music education, has charge of the concert band and assists Fishburn with the marching band.
During World War II, the band was out of uniform and did not march for several years.
Special credit should be given to George H. Deike '03 of Pittsburgh, now a member of the College Board of Trustees, and Edwin R. Norris '03 of Glen Dale, W.Va., for their firsthand accounts of the formation of the Cadet Drum Corps and the first Cadet Band. —Penn State Alumni News, Sept. 1949