Lamar Stevens was sitting courtside at the Cleveland Cavaliers' suburban practice facility, explaining the mindset required to transition from stardom at the college level to being a role player—and occasionally not playing at all—in the NBA. "It's about being humble, being grateful for where you are and how far you've come, and just continuing to be hungry," Stevens said. "The biggest thing is staying confident even when you're not playing, having that mindset like I'm playing 30 minutes a night."
This was early November, a few weeks into the new NBA season, when it wasn't clear what sort of role Stevens '20 Lib would have on a young Cleveland team with big expectations. The third-year forward appeared in just one of the Cavs' next six games—and then, in mid-November, he found himself unexpectedly in the starting lineup for a Sunday night game against Minnesota. He responded by scoring 15 points, grabbing six rebounds, and playing his usual tenacious defense; as it happened, he played exactly 30 minutes that night.
A willingness to accept his role, a relentless drive to improve, and a tenacious playing style have made Stevens—despite his inconsistent minutes—one of the Cavs' most popular players. That popularity extends both to fans and to his teammates, who credit Stevens for inspiring the gold-plated "Junkyard Dog" chain that the team began handing out after wins to the player who best personifies its underdog mentality. "That's what got me here," he says. "Just being hardnosed, working hard, being a great teammate."
Stevens signed with the Cavs as a free agent in 2020 after being overlooked in that year's NBA draft, and he's already far surpassed typical expectations for an undrafted player in the league. That was no sure thing: He appeared in just 40 of Cleveland's 72 games as a rookie in 2020–21, averaging 4.1 points and 2.4 rebounds in just 12.5 minutes per game. One of the great challenges for young NBA players, particularly those who aren't signed to pricey, multi-year contracts, is getting enough minutes to show what they can do.
But Stevens showed enough—in games, to be sure, but particularly in the locker room and on the practice court—to earn a three-year contract, which he signed at the end of his rookie season. His playing time went up last season—he averaged 16.1 minutes in 63 games, including 13 starts—and his production inched up accordingly, to 6.1 points and 2.6 rebounds per game. Then came the current 2022–23 season, which is turning into something of a breakout campaign for Stevens. It just didn't look that way at the start.
He played in just three of Cleveland's first 12 games through mid-November before coach J.B. Bickerstaff, reacting to injuries and a three-game losing streak, inserted Stevens into the starting lineup. The move paid off: Excluding four games he missed due to illness in late November, Stevens started 14 straight contests and averaged 8.0 points and 4.9 rebounds in 27 minutes per game. He also shot just shy of 35% from three-point range in that stretch, a huge improvement over his first two seasons—and a necessary one if Stevens is going to justify his minutes in a league focused more than ever on long-range shooting.
But the most important stat? The Cavs' record through early January stands at 24-14, which put them just 2.5 games out of first place in the NBA's Eastern Conference.
Much of what makes Stevens so valuable to Cleveland can't be found on the stat sheet, or at least not obviously so. He's often assigned to defend the opposing team's best scorer, a role perhaps best measured by how often those scorers try to use a teammate's screen to switch onto a less capable defender. Explaining Stevens' defensive effectiveness, Bickerstaff, his coach, says, "He's got no fear. You have to have that type of mentality to guard guys like that. You have to have supreme confidence. They're going to make tough plays. They're going to make shots. Do you have the confidence and mental and physical toughness to come back again? Lamar has been able to do that."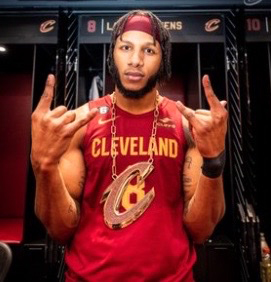 And then there are those so-called intangibles, so coveted in NBA role players, summed up recently by his teammate Darius Garland as "that dog energy, that dog impact—we really need that."
The canine reference gets to Stevens' signature contribution to what seems like a very healthy—and very fun—Cavs locker room. His barking from the bench last season after big plays was picked up by his teammates, and before the season was over, the team had commissioned the Junkyard Dog chain—a massive, jewel-encrusted letter "C" hung from a gold necklace—that is awarded after each win to the player who most embodies effort, competitiveness, and team play.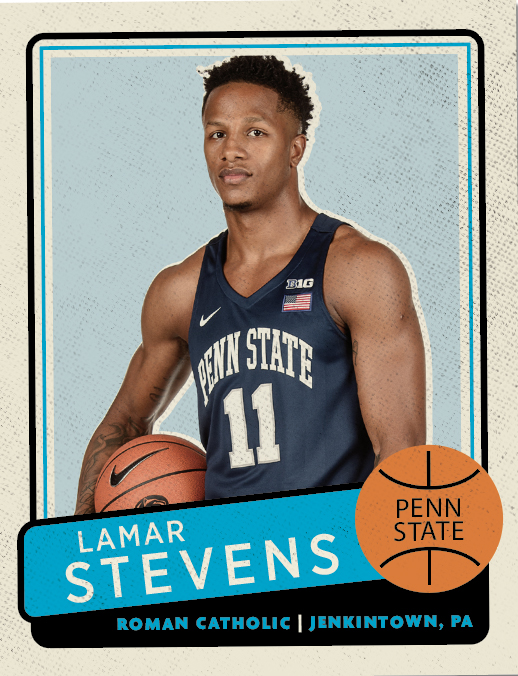 Stevens' NBA success thus far has been measured mostly by less obvious tools, but he has had games—like an 18-point, 11-rebound outing against Dallas in mid-December in which he also served as primary defender against MVP candidate Luka Doncic—that reminded Penn State fans of his prolific days as a Nittany Lion. Had the outbreak of the COVID-19 pandemic not prematurely ended the 2020–21 season, Stevens almost certainly would have finished as the school's career scoring leader; as it is, he finished just six points behind the Penn State record of 2,213 points set by Talor Battle '11 H&HD.
For now, Stevens is the only former Nittany Lion on an NBA roster, a status he hopes is only temporary. "I would love to see more guys from Penn State in the NBA—I take real pride in it," he says. "It helps get me going, not forgetting where I came from, the place that helped mold me into a player."
Any future Lions hoping to join him would do well to follow Stevens' template: versatility, defense, hustle, and an unrelenting commitment to constant improvement. "The NBA is super humbling—you'll play one year, the next year you might not," he says. "But that's not something I think about. I just try to get better every day."