​
Stadium Memories
I enjoyed the article and all the photos on game day at Beaver Stadium. ["What a Show," Sept./Oct., p. 54]. "Raise the Song" was a great way to end the article. What really struck me was the last sentence, "And these days, yes, even the students know the words." As a student in the early 1970s, I must admit that I did not know the words. Thanks to Football Letter Live,which ends each week with the Alma Mater, I now know the words! It makes me very happy to see that the students have the school spirit that I was missing back then.
Linda Rowan '78 Lib
Levittown, Pa.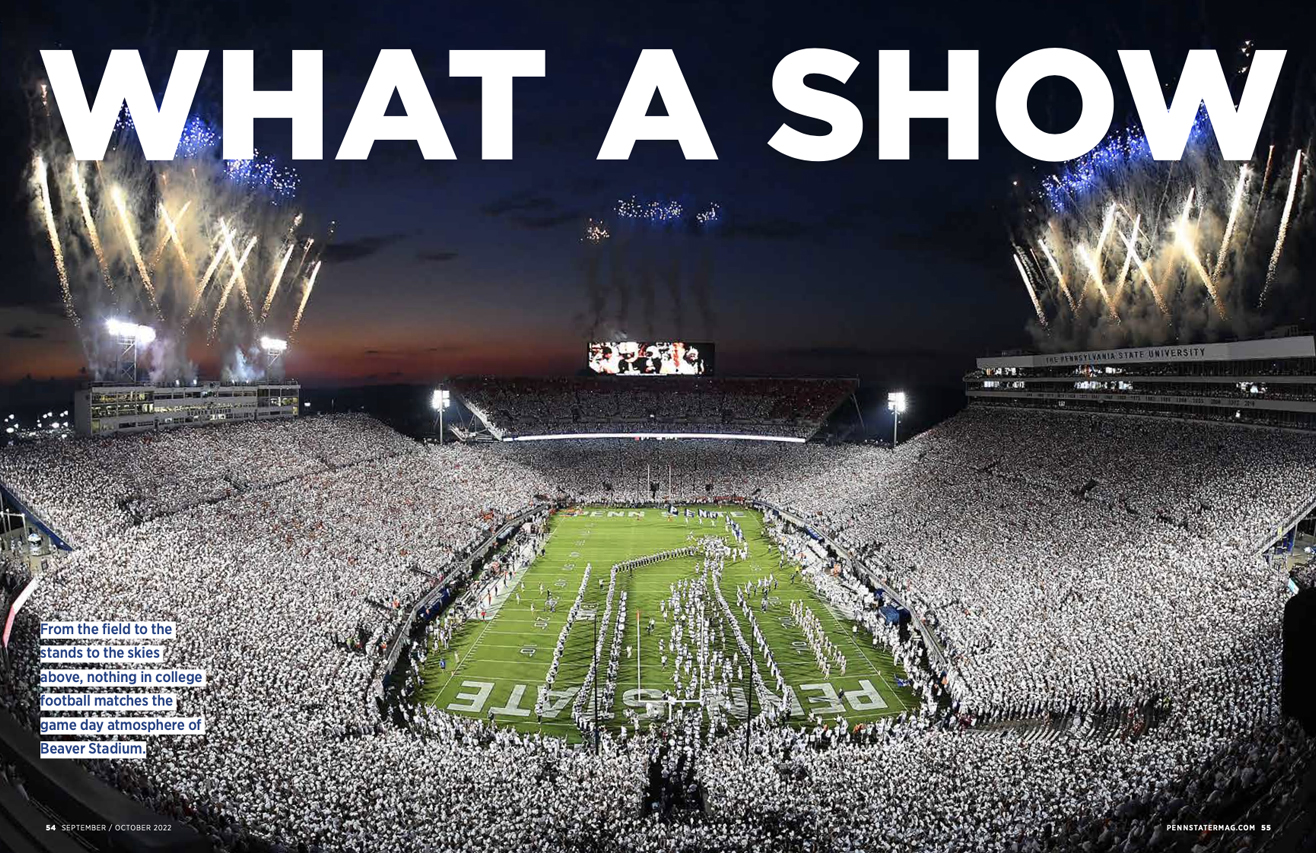 Thanks so much for "What a Show." As freshmen living in McKee Hall across Curtin Road from the old Beaver Field in the fall of 1957, I can assure you that we never saw lights or fireworks splashing above the field, but we were the closest dorm to the Nittany Lion statue and were called upon often to "guard the Lion." Since the field was moved out to its present location in late 1959, our Class of '61 was able to enjoy our last football season (1960) as seniors at Beaver Stadium. We got to sit closest to the 50-yard line in the student section, and we had the iconic view of Mount Nittany through the open south end zone. Times have changed, but the great Penn State football tradition continues!
Bill Oelkers '61 Bus
Hickory, N.C.
Faculty Perspective
Hats off to the astute observations by political scientist James Piazza in the Sept./Oct. issue ["Domestic Disturbance," Sept./Oct., p. 23]. I hope he doesn't catch too much flak for noting that "home-grown far-right violent extremism is now more concerning than other forms of political violence, including foreign terrorism." Who among us, right, left, or center, ever imagined that the Capitol and law enforcement officers would be attacked?
Fred Milano '63 Bus, '73 MA,'77 PhD Lib
Boone, N.C.
I am writing you because the subject of [Piazza's] article has no place in the Penn Stater magazine. At best, this article is an editorial hit job against conservative Americans (especially Trump supporters) and Penn Staters that do not embrace far-left policies and ideology.
Anthony Nicolella '84 Bus
Hometown withheld
Life Link
I was thrilled to read the mention of Rick Hasz ["A Champion for Organ Donation," Sept./Oct., p. 77]. I have a long connection with the Gift of Life Donor program. Upon my husband's sudden passing in 1994, my family and I supported my husband's wish to become an organ donor. We were able to donate his kidneys, heart, liver, and corneas. I have become dear friends with his liver recipient and their family, whom I was able to meet years ago. I became very active in promoting organ donation and served on the board of directors of the Gift of Life organization for several years. I often presented at events, and I was named the recipient of their Donor Awareness award in 2001. I still volunteer for the organization promoting and championing organ donation. Thank you for highlighting Rick and the Gift of Life Donor Program. He, like his predecessor, Howard Nathan, continues to work tirelessly on behalf of both donors and recipients and their families.
Ilene Goldberg White '74 Edu
State College
That's a Mouthful
Thanks for the great scientific insights on the anthropology of the dental microbiome [Q&A, July/August, p. 22]. It helped me understand a bit more a situation a relative is having with their teeth, and how an excess of "modern life" can wreak havoc with our nature. It's always very rewarding to read and share the knowledge and history that the Penn Stater and the quarterly research magazine bring.
Francisco Salazar '83 MBA Bus
New Alexandria, Va.
Colorful Competition
Earlier this season, our Tri-County Chapter of Central Florida competed in the College Colors Day competition during our watch party at McCall's Tavern in The Villages. We came in second among alumni groups, bringing in $13,568, missing first place by $501. A total of $48,708 was raised by all of the college residents, friends, and alumni for our local food banks. We would love to see our club in the Penn Stater.
Debi Evans
The Villages, Fla.
Reunion Challenge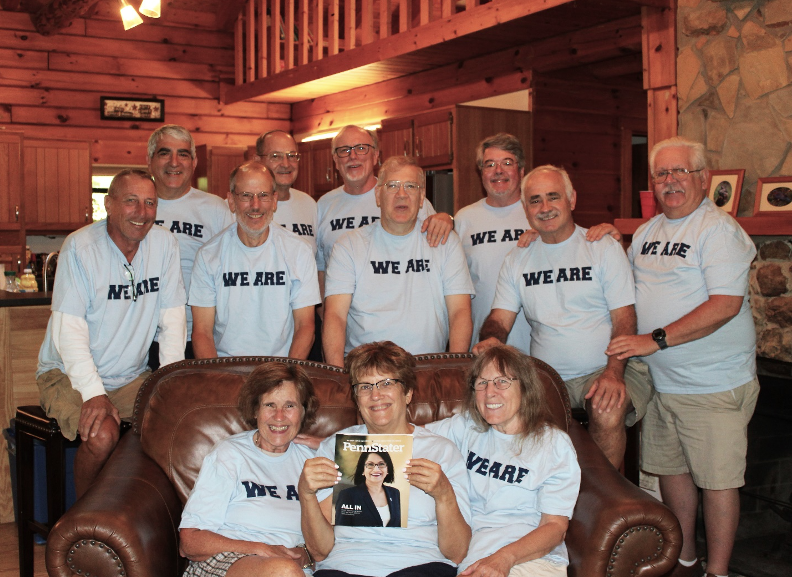 We thoroughly enjoy reading about the various groups of Penn Staters that have managed to stay connected over the years after graduating. We are a group of 1975 to '79 alumni who met as students in Mifflin and McElwain Halls. We started holding our own annual reunions in 1976 and have never missed a year, including during the pandemic. Our group of 15 met in August at Smith Mountain Lake near Rocky Mount, Va., for four days of camaraderie and reminiscing for our 45th reunion. In addition to our annual reunions, we frequently get together for Penn State football games and other events. Here is a group picture from this year's reunion. We'd like to start a challenge to find out if there are any groups out there that can beat our record of 45 reunions in a row.
Mark Orr '77 H&HD
Virginia Beach, Va.
CORRECTION
In our story on two alums who competed on the U.S. team at the World Fly Fishing Championships ["Reel Achievement," Sept./Oct., p. 34], we ran a photo that we thought was Tess Weigand '12 Agr but was a different competitor. That's Tess below. We regret the error.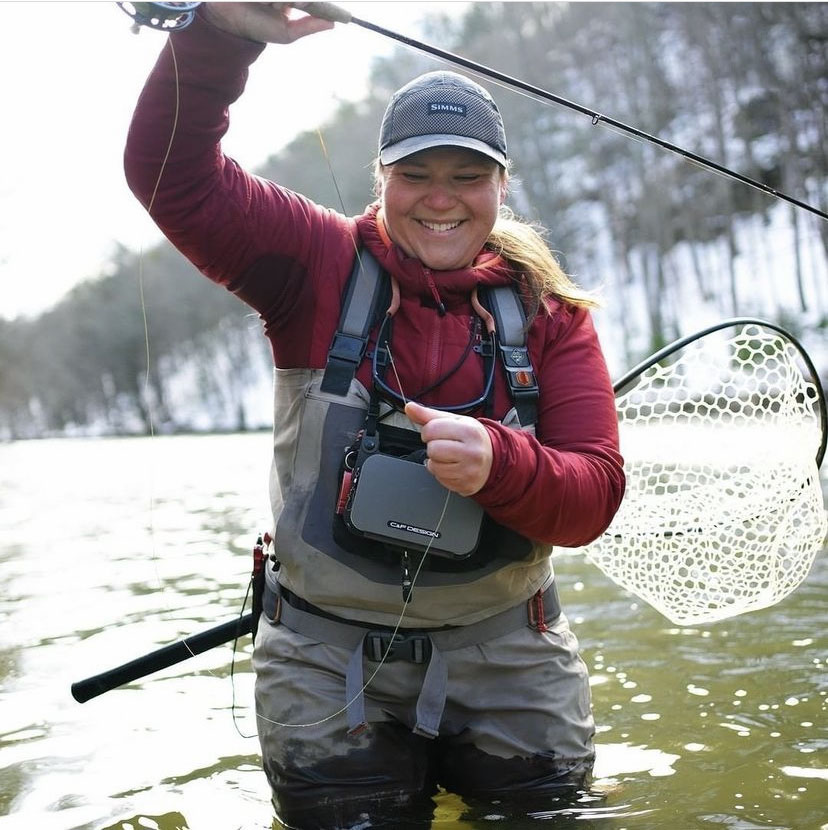 ​