Black Voices
I just received my Penn Stater. The cover and the stories frankly blew me away. Never have I seen this publication with such an appreciation for Black students and Black graduates—and I am talking about for at least the last 50 years.
Charles Dickerson '63 Edu
Easton, Pa.
The plain facts to "Black Lives Matter": Your editor makes a point of what "Black people or people of color go through on a daily basis." If they are Penn State graduates, more than likely, they are having a great life, enjoying the fruits of their labor from college, and embarking on a successful career. They make a more-than-adequate living and are on their way to a great life being a Penn State alum. It's just like the rest of us, white or Black.
Stephen Lyon '75 Com
San Diego
I have been a faithful reader of the Penn Stater since my graduation. During my time at Penn State, beginning in September 1964, a "whiteout" didn't describe only the stands in Beaver Stadium but was a real approximation of the entire campus. As a person who calls himself white, I now consider myself a recovering racist trying very hard to be an active anti-racist. I must admit that I have skimmed many past issues in the over 50 years since my graduation. However, I found the Sept./Oct. issue riveting and each piece amazingly profound. I hope that this will be a first step in an ongoing presentation of the environment that faces the increasingly broad base of persons of color who are students, staff, and faculty throughout the campuses that comprise the Penn State system. The more we white folks are informed of the systemic racism that exists throughout our nation, the greater the number of allies who can join in the vital need to change our course. Again, thanks for a powerful issue.
George J. Schofield III '68 Bus
Bryn Mawr, Pa.
Please remove me from your distribution list. I do not need to be lectured by ideologues with absolutely no knowledge of history or reality. The Sept./Oct. issue went straight to the trash as it has no resemblance to reality and simply reiterates why we have a polarized nation.
Robert Pickel '76, '77 MPA Lib
Alameda, Calif.
Beautiful Penn Stater. So grateful for your creative contributions toward justice at Penn State.
Charles and Jo Dumas '98 Com
State College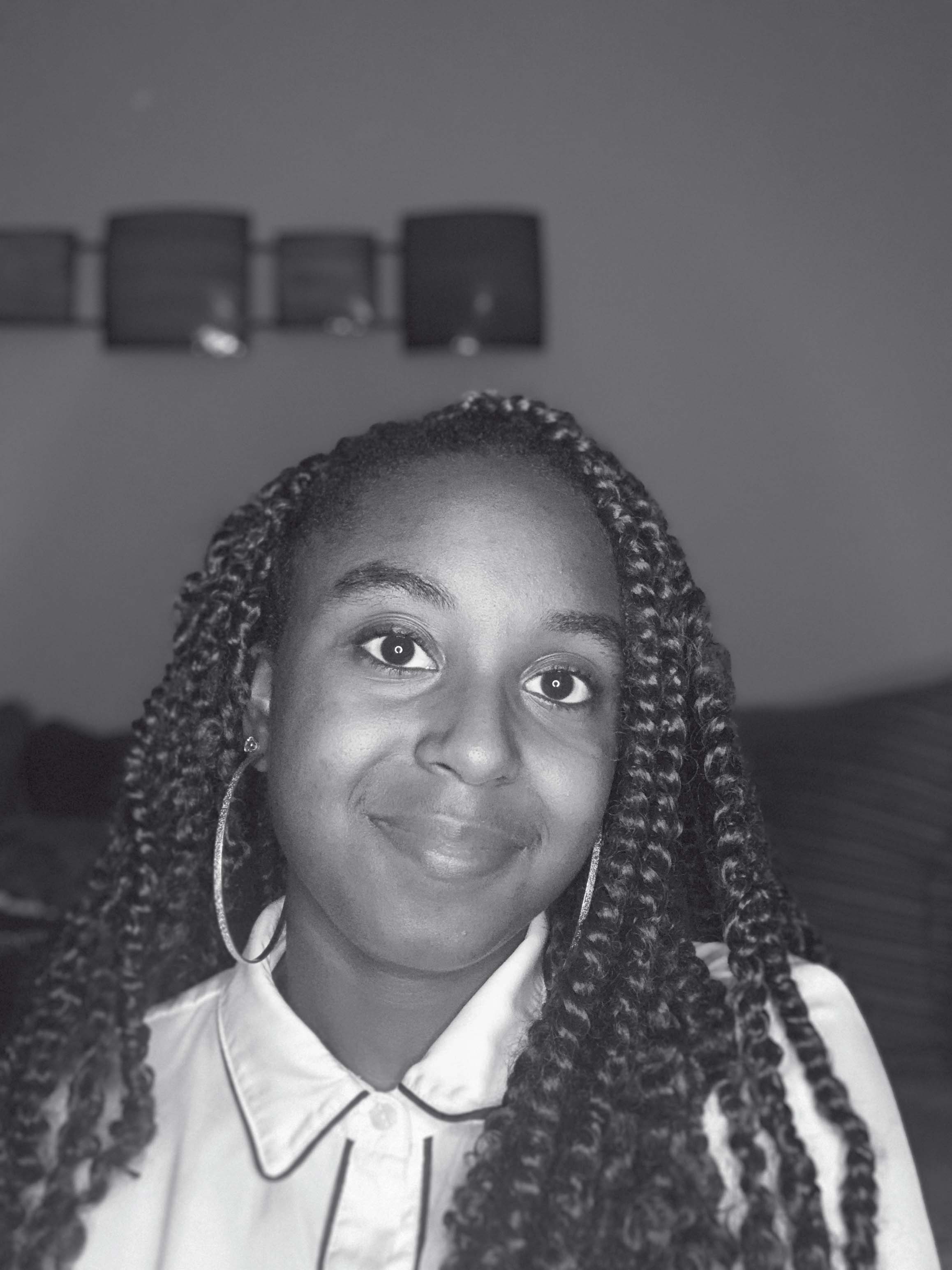 "We are Penn State" should not be used, as Dymand Mitchell wrote [Sept./Oct., "Time to Listen," p. 7], unless we try to understand what we are all going through. My affiliation with Penn State is varied, having been a student in the '60s, an instructor at the New Kensington campus, an employee of a special educational opportunity program at University Park, and most recently a mentor in the College of the Liberal Arts. Over the last 60 years, I have seen too little change. The number of foreign students exceeds the number of African American students. The number of African American professors is too low. State College lacks hair salons that can do braiding and stores selling beauty products suitable for nonwhite patrons. As recently as last year, an African American student told me that on her first day of an advanced economics class, as she waited for the professor to arrive, several white students told her she was in the wrong classroom, as this was advanced economics. Come on, Penn State. Let's start the next decade doing better so that we can sincerely pronounce "We are Penn State."
Elizabeth Schiebel Ramadass '64, '66 MA Lib
Mitchellville, Md.
I just received the Sept./Oct. issue. I could not believe that the magazine would be completely devoted to highlighting and supporting the Black Lives Matter movement. I read the obits to see if any of my classmates died and then threw the magazine into the recycle bin. I still can't believe that Penn State has drifted so far left.
Michael Hoyman '57 Bus
Fort Myers, Fla.
I'm thrilled that you've devoted the issue to Black lives mattering, and especially those of Black Penn Staters. This is so needed and I'm proud that you're taking the lead in this effort. I'm also proud to read what Dymand Mitchell wrote—I think of her as a neighbor in Prince George's County.
Melissa Herman '63 H&HD, '71 MA Lib
Bethesda, Md.
I am extremely disappointed and a bit offended by the Sept./Oct. issue. I have no problem with an article or two on the Black Lives Matter subject but why take over almost the entire issue? I do not feel that this was at all appropriate as it appeared to be a platform solely for BLM. There are so many other issues that could have been addressed, such as an update on all of the international students who have had to suffer hardships due to the COVID-19 pandemic, and Penn State Hershey Medical Center's actions concerning COVID-19. I certainly hope future issues concentrate on the overall present and past student population and not just one topic.
Cynthia Marker '84 Hbg
Hampstead, N.C.
From an old white guy, thank you for devoting most of an issue to the feelings of Black students, alumni, and faculty. Important, timely, and worth hearing.
Bob Franklin '59 Com
Maple Plain, Minn.
I just want you to know how disappointed I was to see the latest edition of the Penn Stater! Seriously! You want a country that is all inclusive and you take the entire magazine to illuminate only Black lives. I'm disgusted by the bias this magazine is showing and I hope other Penn State alumni speak out also. So ashamed of this magazine! It is burning in the trash as I write this!
Marjory Burtnett
Irwin, Pa.
Thank you for so many great articles. I found it very informative and important with what is going on in our country. The staff and writers always do a great job and this is no exception.
Jeff Weyman '76 Agr
Boalsburg, Pa.
Normally upon receiving my Penn Stater, I briefly look through it, read a couple of the articles and enjoy reading about my alma mater. Unfortunately I cannot say the same for the Sept./Oct. 2020 issue.
As a white police officer in Lancaster County, I was disappointed by the narrative of the Sept./Oct. Penn Stater. I felt it was one-sided and only contributed to the social division being experienced in the United States. It encouraged identity politics and alienated the police and their families instead of creating a bridge of respectful discourse.
Law enforcement has several social agencies at our disposal when responding to a call for service, such as Children and Youth Services, Office of Aging, and/or Crisis Intervention. Lancaster County has even partnered with a nonprofit called Last Chance for drug and alcohol addiction. Police rarely leave a call for service without a resolution. Defunding the police is dangerous. In 2019 the Minneapolis police chief asked for 400 new officers—he received zero. He knew his officers were already overworked and overstressed. Consider the cost of training to recognize mental health disabilities, de-escalation tactics, and proper use of force. "Defunding the police" will leave police departments understaffed, under-trained and over-stressed.
I don't deny the history of police violence in the past decades. However, in speaking with current law enforcement from the federal, state, and local levels, I have never heard anyone indicate racial bias. I acknowledge it still happens, but accusations of officer misconduct handled in the street, may be viewed as resisting arrest resulting in a use of force regretted by both sides.
Always a Penn Stater, because We Are!
David M. Bender '99 Lib
Lancaster, Pa.
I was glad to see the Penn Stater address the Black issues that outline the struggles they have faced. I attended a segregated high school and college in Florida, before going to Penn State. My family moved to the South after I was shot by a Black gang in western Pennsylvania. So that lets you know that despite all that, I am not a racist but certainly lived among them in the North and South. And that is the side of the story you did not address. Racists are white and Black but until dialog between the different sides occurs nothing will change. Both sides must understand how the other side ticks and why. For example, white racists don't understand why Blacks have segregated organizations, yet white-only organizations are illegal or considered white supremacist. So please continue your work but key is discussion not protest or riots.
Jack Hall '62 Sci
Loudon, Tenn.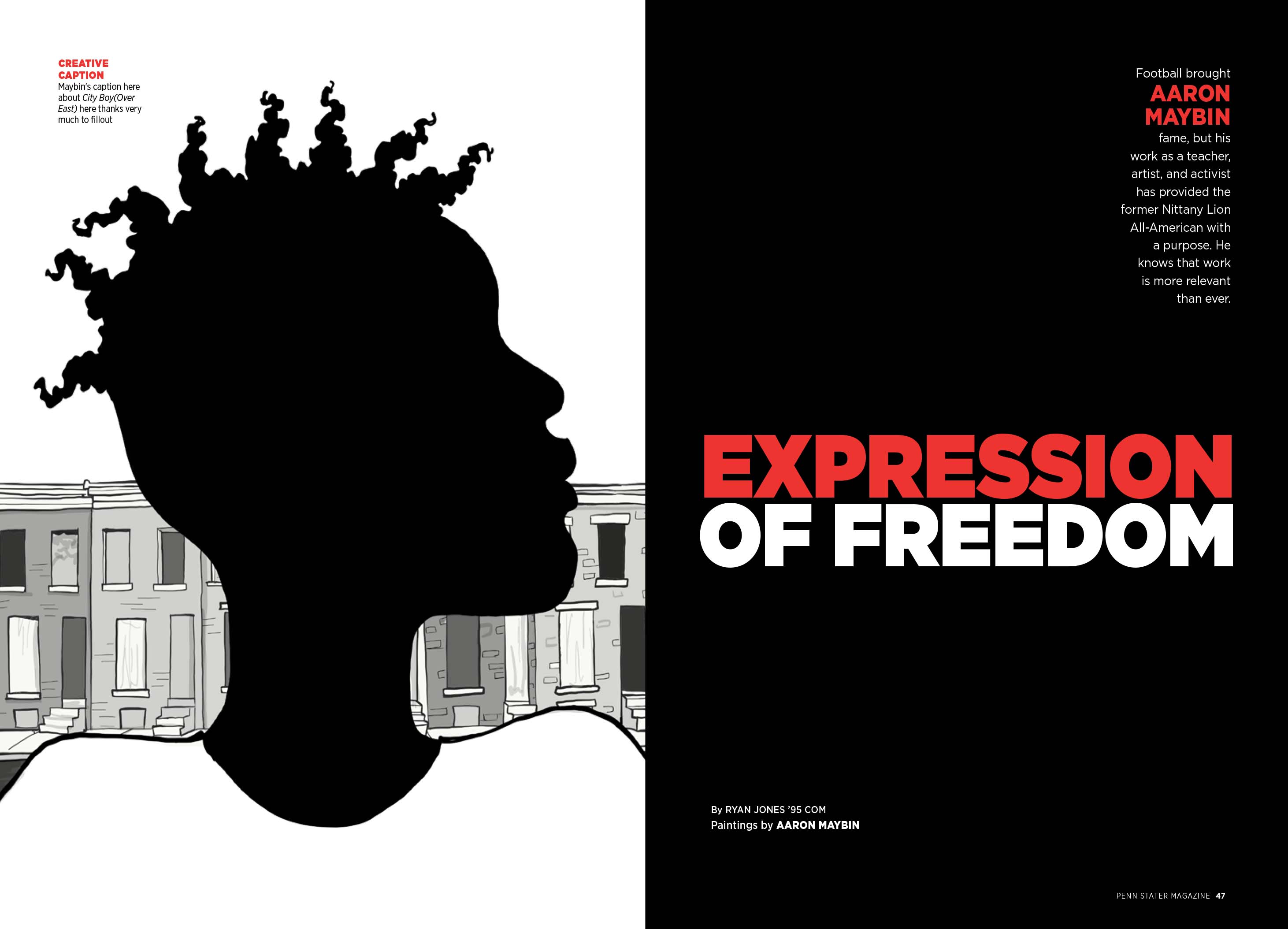 Thank you for the Black voices issue. I was particularly inspired by the profile of Aaron Maybin [Sept./Oct., "Expression of Freedom," p. 40]. Having attended Penn State during the civil rights progress of the late 1960s, I naïvely believed that racism would disappear from our society. Yet here we are.
Tim Bezler '70 Eng
Fairfield, Conn.
 
I should not have been as disappointed as I was when I saw the cover of last month's Penn Stater magazine. I know a decent portion of the country has gone off the deep end and that includes most, if not all, of the colleges. But not my school. Ha! Al Sharpton has even said that the "Defund police" idea is dumb. The inner cities need more police, not less. Of course our ever-vigilant local legislatures in many big cities have already started to cut back their funding and support of the police. Another brilliant move! Nobody thought to maybe check with the 95 to 98% of the people who were not protesting, to see what they wanted.
Roland McAllister '72 Sci, '75 EMS
Birdsboro, Pa.
Excellent issue—from the cover to the end. Thank you!
Lauren Anderson-Carty '79 MEd Edu
Newtown Square, Pa.
All I can say right now is, Wow! I so appreciate this issue! My son Andrew graduated from law school in May and while he does not live here anymore, some of his mail still does. I was just going to forward this issue off to him, but decided to peruse it first to see if anything caught my eye—I cannot put it down! Each story, each insight, is even more riveting and insightful than the one before. Thank you for taking the courage to produce this, and thank you for giving a forum for these authentic voices. As a 59-year-old white woman, I have a lot to learn!
Leslie Crabbs
Richmond, Va.
I am from the old school. I graduated from Penn State in 1961. I am 86 years old. I am an evangelical Christian and a conservative. I've seen a lot in my lifetime, but what I am seeing now in our culture is truly disgusting and I believe a lot of it is due to the liberal teaching in our schools and universities. I feel so sorry for young people growing up today. I'm glad I am old. I am not a racist. I know lots of African Americans who I've been friends with over the years who are truly beautiful human beings. But the Black Lives Matter movement, from what I gather, is a destructive movement that hates our great nation. Support for BLM is anti-American in my opinion. Our nation's history has not been perfect, but we are still the best nation on Earth. Why do we want it destroyed? And yet we destroy our national monuments and statues. We should be teaching more history in our schools, not less. But the main reason we are seeing such anarchy in our nation today is because we have taken God out of everything; our schools, our businesses, our government and all facets of our lives. And it seems there is less love for our great Constitution. It appears we are defeating America from within. How sad.
Gary Reeder '61 EMS
Grand Junction, Colo.
Thank you for putting together a beautiful magazine that honors the struggles and triumphs of Black Penn Staters. I seldom read the magazine cover to cover, but this one was compelling. I look forward to more.
Karen Heilig Decker '82 Com
Basking Ridge, N.J.
I just wanted to thank you for all the great work you do and for helping give Black lives a voice. I'm guessing you are getting a good bit of backlash being in Central Pennsylvania. I grew up there and the racism is horrible in the small towns around Happy Valley. Please keep up the great work, you have the support of myself and countless other alumni.
Hunter Remer '04 H&HD
Denver
Anyone chronicling experiences of Blacks at Penn State needs to remember the efforts of C.O.R.E. (Council On Racial Equality)—including marches, picketing, etc.—in the late 1940s to enable Black students to have their hair cut in State College.
David C. Herting '50 Sci
Johnson City, Tenn.
Very disappointed in the content of the latest issue. The content is nearly 100 percent Black—where are you going? Not until the Class Notes does it go away from its racist theme. Penn State is hardly 100 percent Black, as the latest issue would indicate. To do what you did in this issue is just as racist as not doing anything. There have been Black voices at Penn State forever. Don't be pressured by media trends.
Robert Baxendell '75 Hbg
Aberdeen, Md.
I am not an alumnus, but I do donate to Penn State. I'm Black and very proud to have a nephew who graduated from there. I have just received the latest Penn Stater and was glad to see that Black voices—alumni, faculty, and students—have been highlighted. A previous issue about how the pandemic has affected students of color was chilling. Reporting many more life realities concerning your diverse student population truly puts the issue(s) on everyone's doorstep.  It may not be palatable to so many of your white alumni, but this is the real world we live in today. I do hope that Penn State will always be on the cutting edge of promoting society as it truly is, while learning and helping all alumni, faculty, and students to realize the complexities and value of diversity. All of us must make a daily commitment of action and going beyond the current events. The momentum for change must never falter. I believe Penn State will go forever onward in this mission.
Lynn Thomas
Bath, Pa.