Jesse Arnelle
When I was a freshman at Penn State, Jesse Arnelle was my hero ["A Great Man on Any Stage," Jan./Feb., p. 54]. He protected freshmen from bullying. All we did was quietly let Jesse and Rosey Grier know and they made certain we were safe. I will never forget them. I should have told his mother and father they did a great job; Rosey's parents, too. I wish the article had been a bit larger. Jesse was definitely unforgettable.
Darlene Dintino Large '57 A&A
Lees Summit, Mo.
I was fortunate to spend my freshman year (1953-54) in Watts Hall where Jesse Arnelle shared a room with Penn State's star halfback, Lenny Moore. While an excellent right end in football and a center in his favorite sport, basketball, Jesse was a serious student, too. If he had 10 spare minutes, his nose was in a textbook. I got to know him fairly well, and with all his other attributes, this son of a New Rochelle, N.Y., police officer was one heck of a nice person, too. And, student or not, Jesse occasionally let his hair down. Watts Hall was built to be indestructible, and I have a vivid memory of Jesse taking part in a wild water fight. While the rest of us were throwing cups of water, Jesse filled a large wastebasket to the halfway point, and in a stairwell threw water from one floor to the one above. I really hate to realize that he's gone.
Dick Kurtz '57 Bus
Orlando, Fla.
On a flight from Seattle to San Francisco in the 1970s, as I slid past the first-class seating, I recognized a familiar face from Penn State and said, "You must be Jesse Arnelle," for he was very well-known. He nodded that it was so, and in a brief moment, I told him of my background as a Nittany Lion and proceeded to my seat. Of course, he had departed the aircraft first when we landed, but there he was waiting on a bench so we could have a conversation. He'd been on a fly-fishing trip with a friend and was on his way home. It startled me that he took a moment to recognize our mutual background at Penn State. This showed who he really was, an All-American football star and student body president, but also a warm and sincere person who set aside that moment with a complete stranger to have a chat. Moments like that are magic and never forgotten. Right on Penn State!
Glenn Wiggins '54 Agr
Port Angeles, Wash

Prexy Eisenhower
I was touched by your tribute to my Prexy ["The Politician," Nov./Dec., p. 32]. I was privileged to know him from spring 1954–55. I was one of 12 chosen to Lion's Paw. We would meet every few weeks at his home to give him an in-depth view of students, their activities, and problems to be solved for their welfare while at Penn State. He was a personal mentor to me then and even today because of his touch of humanity. His wife had passed away and his investment in our group was very personal.
Prexy told us that if the phone rang in his library it would be his best friend and brother, Dwight, who needed his input on national problems. He would then share solutions with us (as secrecy allowed). He taught me to be a great listener. He loved the history of Penn State and its culture and spirit. You educated our alumni heritage with a portrait of a person who truly shaped our future educational status.
My dear friend Jesse Arnelle passed away last October. We were friends starting with Lion's Paw and we stayed in touch over the years as brothers in our love for Penn State. I spoke to him a few weeks before his death. He told me of the full life he had experienced and his gratitude he shared with his wife and others.
I have been remembering with a tear in my eyes. Imagine–the first Black student-body president of a major university in 1955! He served the university for 65 years. Your article about Jesse was also outstanding in total service to the university.
Ronald L. Safier '55 Lib
Los Angeles
Shadow Tales


Our family has had football season tickets since 1985. We currently share time in Texas and Arizona and try to get back east a few times each fall. After looking over the Sept./Oct.  2020 issue of the Penn Stater, I came across the article about the flipping at midfield of our amazing drum major [Chalk Talk, Sep./Oct. 2019, p. 27]. My husband, Louis, had a picture from the Oct. 9, 2010, game vs. Illinois, an ugly 33-13 loss, but a great shot of our drum major's flip at midfield. Not sure who it was, but his head is literally pointing down at the 50-yard line, along with a cool shadow. The other shot is from the Sept. 1, 2007, game vs. Florida International, a 59-0 blowout. Our receiver, Terrell Golden, made an amazing catch. Not sure it counted because he looks like he is going to be out of bounds, but the shadow tells a cool story. It must have been close to halftime, because the band is ready to take the field. We love our Dear Old State and are hoping to get back next year for some football and a chance to visit State College.
Diane Huegel Sonoskey '83 EMS
Spring, Texas
Search for E.T.
It was very interesting to read about Penn State's contribution to the search for extraterrestrial intelligence ["Feet on the Ground, Eyes on the Stars," Jan./Feb., p. 38]. The search for life within our solar system can focus on microbial life, but the search for life in other star systems can only focus on advanced life forms able to use detectable technology like radio. Ernst Mayr, one of the greatest evolutionary biologists of the 20th century, has said that SETI attracts physicists and astronomers but that biologists are far more skeptical. There's no deterministic process that says that intelligent life will emerge from primitive life. Thus, while microbial life may indeed emerge in our universe numerous times, the contingencies of evolution, say many of the biologists, make the emergence of technical civilizations extremely improbable. As Enrico Fermi said: "Where are they?" My mind thinks the biologists are right, but my heart hopes the SETI endeavor proves successful.
Donald Leonard '70 Lib
Broomall, Pa.
Brighter Days
In these days of gloom and doom, the photo of baby Luigi Vincenzo D'Amico ["We Are … Smitten," Jan./Feb., p. 74], put a smile on my face and gave me a sense of joy. I hope that little Luigi will be able to sleep as serenely when he graduates (Class of 2041).
Martin D. Kahn '53 Lib
Doral, Fla.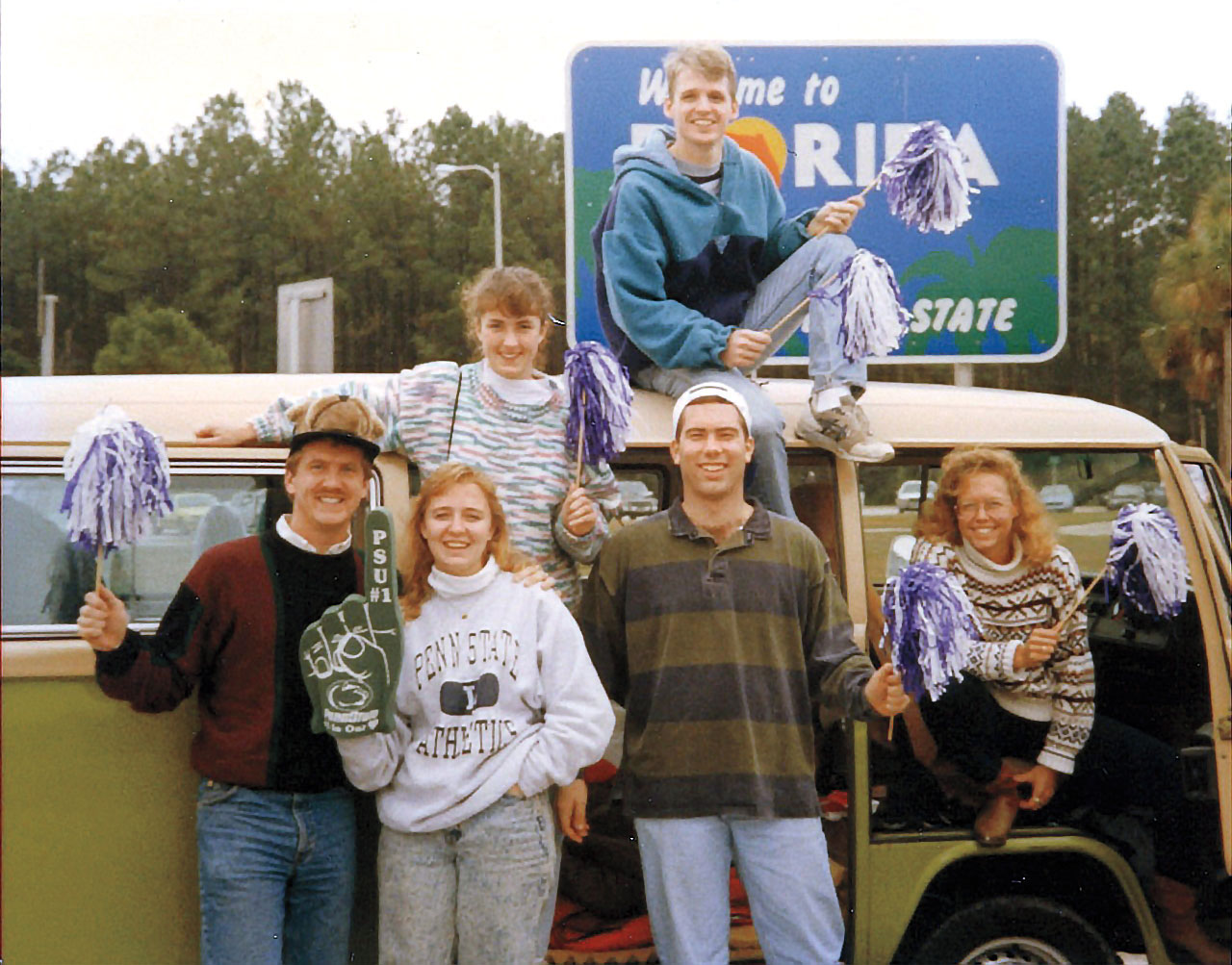 I'll never forget the time six of us—Chris Gazze, Paul Haris, Tammy Parsons, Kathy Hoey Minarik, Tom Walsh, and Lori Dudley Walsh—road-tripped to Miami for the 1993 Blockbuster Bowl in a lime-green, 1960s-era VW bus. We borrowed the van from Paul's brother, Robi Haris (also an alum), but after our first stop for gas the bus wouldn't start. We found a payphone and consulted Robi, who recommended we try to push-start it by "popping the clutch." Lori (who claimed to have experience in such matters) got behind the wheel while the rest of us pushed. It worked and we decided to press on rather than go back and change cars, but we had to push-start that thing every time we stopped for gas (or food or oil)—which was every couple hours because a VW bus has the aerodynamics of a brick wall and this one burned a quart of oil with almost every tank of gas! We got so good at starting it that the driver didn't even have to stop after popping the clutch…we just kept rolling while the pushers ran around and jumped in through the side door. I can't imagine what bystanders thought as they watched us, especially on New Year's Eve when we pop-started the bus all dressed up for a night out on the town.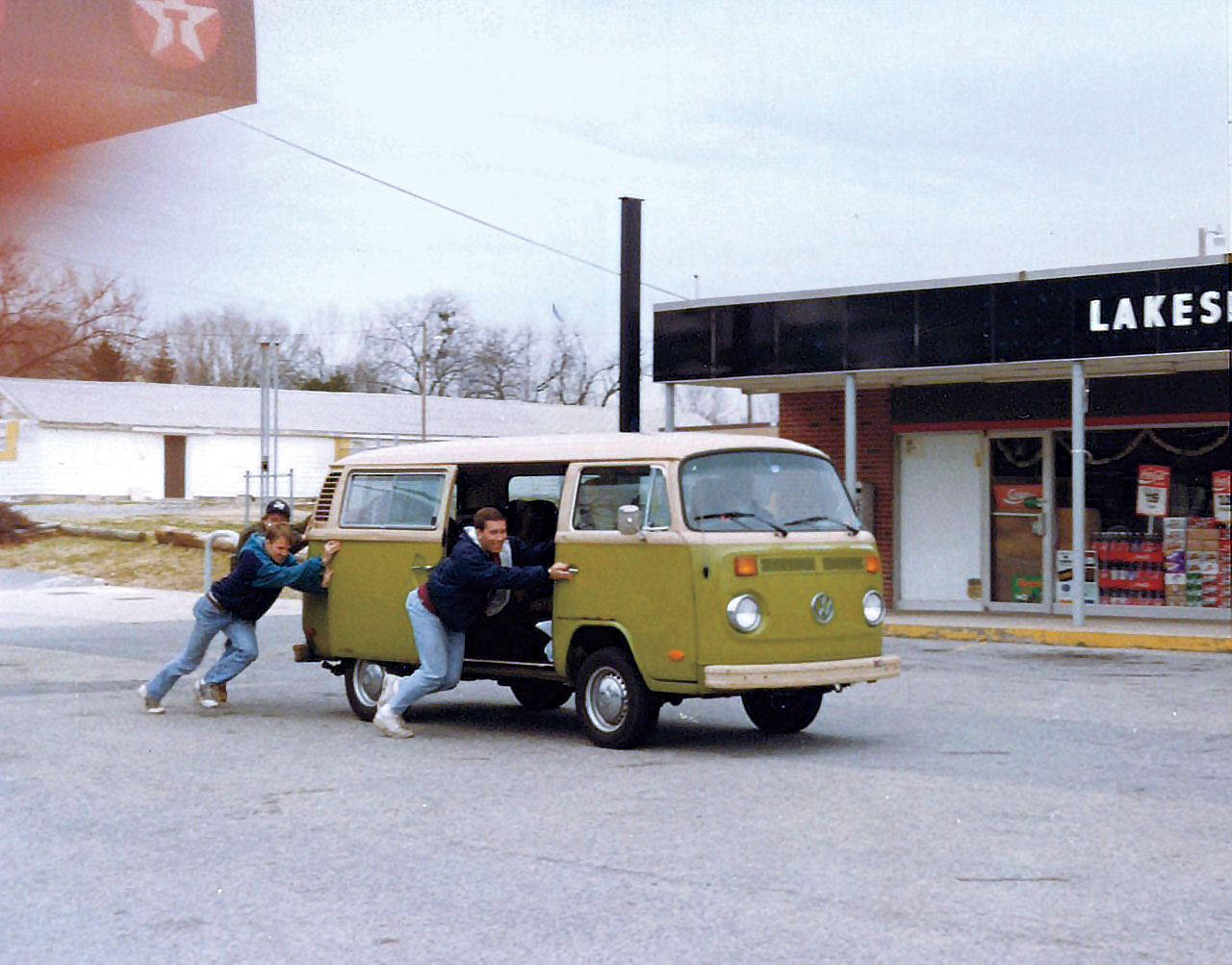 I remember we left late in the evening and drove straight through. We removed the middle seat so four of us could sleep on the floor in the back. In a VW bus, the air flows over the engine (in the rear) and then back to a floor vent between the front seats where it comes out blazing hot. The person closest to the front was therefore roasted, while the one closest to the back froze. It was so cold on the floor in back that we used it as a makeshift beer fridge! We rotated floor positions every hour, with the person in front serving as the heat shield and the one in the back as insulation. 
We lost the game to Stanford that year, but that classic VW bus made it a trip none of us will ever forget.
Chris Gazze, '91, '93g
New York, N.Y.