Early Reader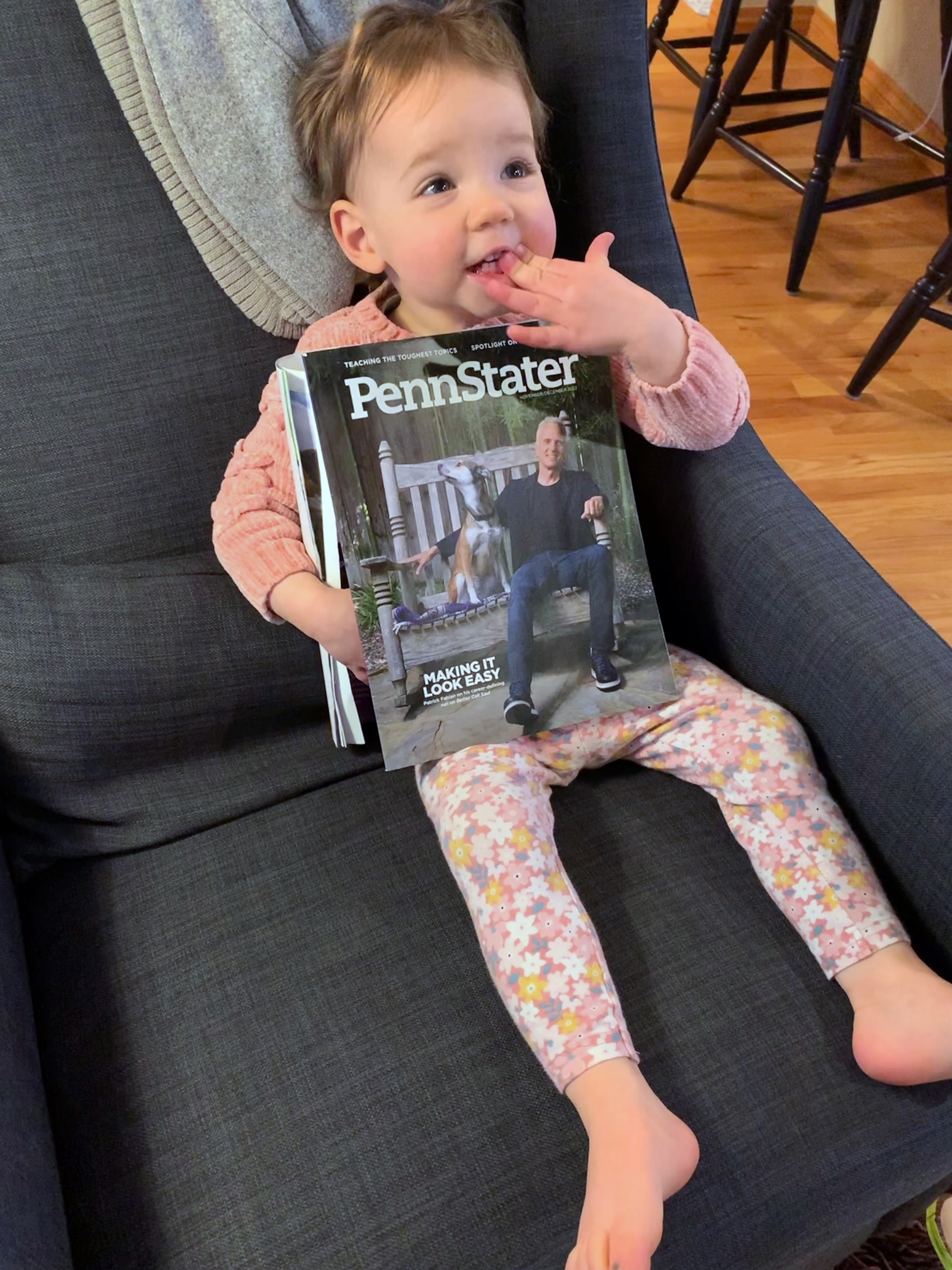 I received my Penn Stater in the mail the other day, and my 20-month-old daughter, Evie, grabbed it. I sent this photo to my parents (Jay and Marcia Oppenheim, both class of '72), and they replied, "Send this to the Penn Stater!" So that's what I'm doing. Enjoy a cute pic of a future Nittany Lion!
Abby Oppenheim '04 Com
Highlands Ranch, Colo.
Holocaust Lessons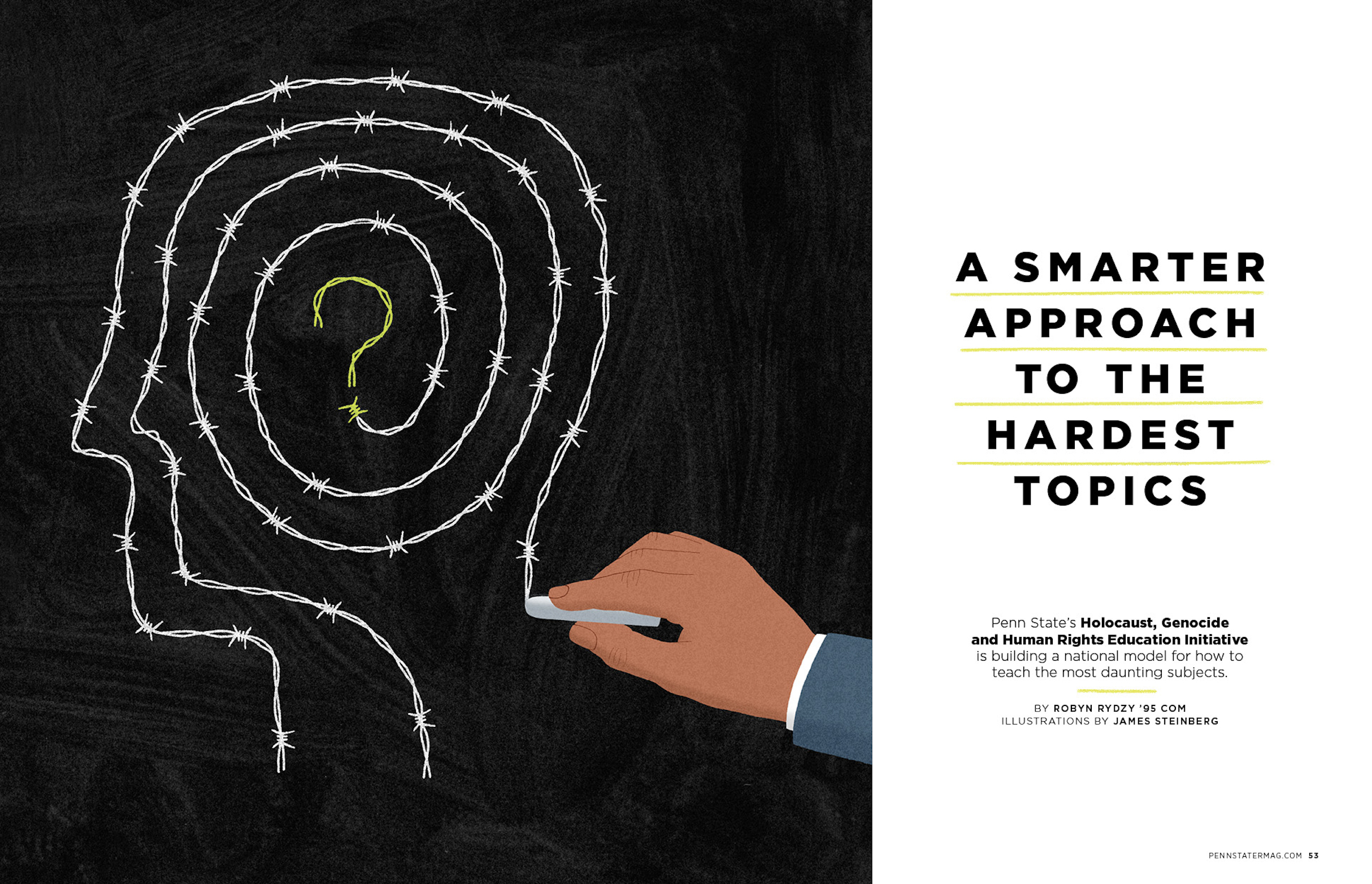 During a trip on the Danube standing in Hitler's parade ground, I posed a question to our German tour guide. I related that my grandson and his friends fixated on the Hitler-focused cartoons provided by his teacher, a World War II buff. Missing the history point totally, he and his friends started including swastikas in their emails and texts, thinking it funny and cute. My daughter, a teacher, read him the riot act when she found out. My question to the guide was, "Don't you have the same problem in Germany with young people not comprehending history, not connecting the dots?" He very candidly said "yes" and offered that in Germany it is against the law to homeschool and that they start in school when kids are 14 reading the diary of Anne Frank. In upper grades they introduce the "isms" so that they understand what thinking was going on, all part of bringing the reality of what happened to Jews. Years ago, Germans discussed tearing down all things associated with Nazis—buildings, statues, etc. But they decided if they did that, there was nothing to remind them of past events, nothing to stimulate discussion by parents, school outings, etc. So, it was selective what they tore down. I applaud this approach to empowering critical thinking ["A Smarter Approach to the Hardest Topics," Nov./Dec., p. 52]—what I see missing in our current grade school education.
E. Oddi '69 Eng
Los Angeles, Calif.
The Tundra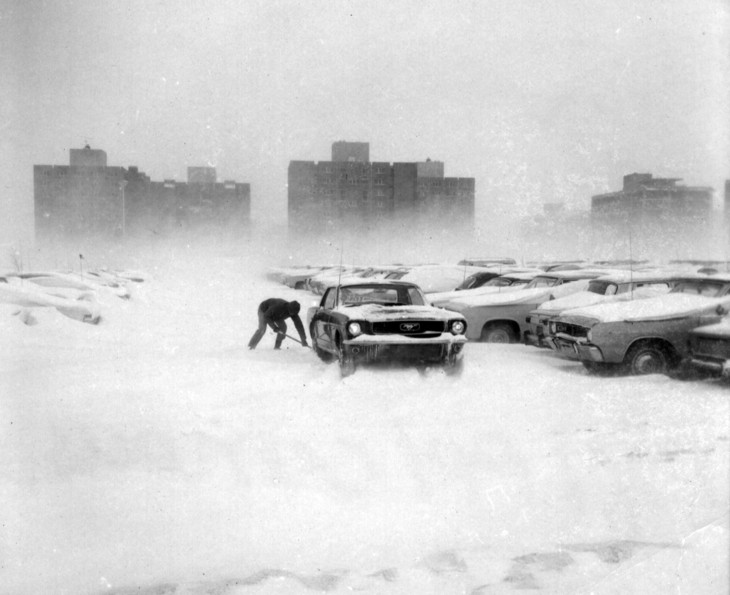 Your picture of a snow-covered Lot 80 from 1974 in the November/ December issue [p. 21] brought back many memories. My friends and I were four-year residents on the fifth floor of Snyder Hall and spent many a morning trekking across a very windy and snow-covered Lot 80, including my freshman year, when I had 8 a.m. classes six days a week. (Yes, back then Penn State was on a term system, and we had Saturday morning classes.) I also recall the winter of my junior year traversing a very icy Lot 80 on crutches with my foot in a cast. I had the misfortune of tearing the ligaments in my ankle playing club soccer, which back then was mostly international and graduate students. All part of some great memories at Penn State.
Jeff Bader '76 Lib
Naples, Fla.
Thank you so much for your "Then & Now" glimpse of the infamous Lot 80. Great photo, too! Yet "frigid winter winds" and "crossing the tundra" are mild and faint descriptors of the dark-of-winter march from the center of campus across that wasteland to East Halls. I knew a gal who teared up so much from the brutal cold wind that her contact lenses were blown out of her eyes on her way back to the dorm. Kids nowadays have it so easy..
K.D. "Kip" Sturgis '77 Lib
Chapel Hill, N.C.
Standout Student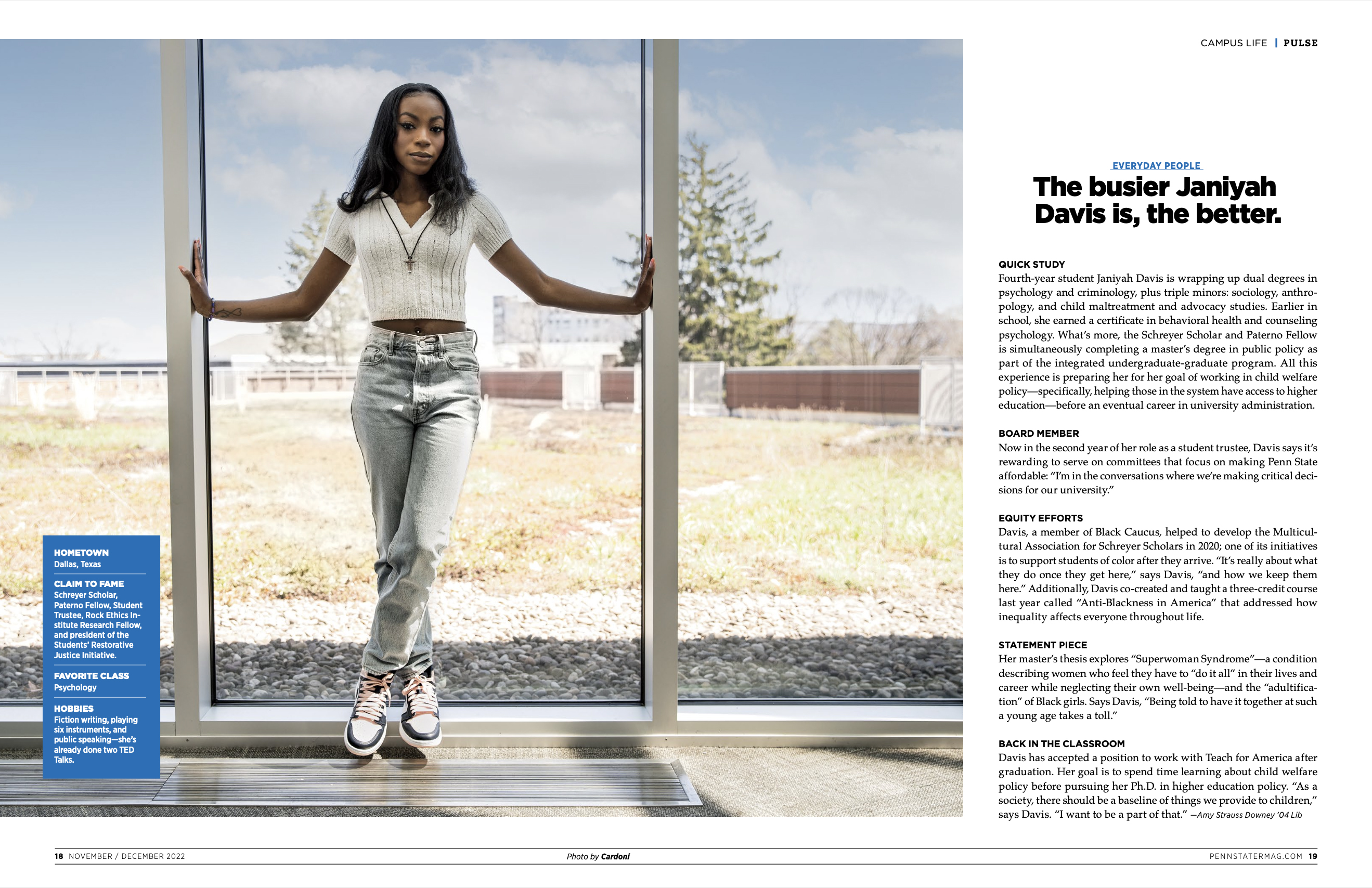 I greatly enjoyed reading your article about Janiyah Davis [Everyday People, Nov./Dec., p. 18]. She is incredibly talented and yet humble in her life goals of focusing on child welfare. Her accomplishments have been outstanding and include development of the Multicultural Association for Schreyer Scholars. I have great hope for the human race with young people like Janiyah leading the way. I enjoy reading about the hopes and dreams of young students.
Cyndi Bloom '68 Com
Boca Raton, Fla.
Dorm Reunion
This is a response to the November / December alumni group from Mifflin and McElwain Halls [Letters, p. 10]. Butler House also started our reunion in 1976. We are the first floor of McKean Hall, consisting of 38 students and an RA. We started with a picnic at Stone Valley, moved to Whipple Dam, and then various hotels as we graduated. We've had a mini golf tournament for kids, and we usually have two foursomes for golf on Saturday morning. There have also been cruises to Bermuda, Alaska, and the Mediterranean, as well as many home and away football games. Our biggest accomplishment is the establishment of the Butler House Trustee Scholarship; its value for the fiscal year ending in June was $89,178.
Ace Munley '78 H&HD
Bonita Springs, Fla.
Thoughtful Essay
The "Place to Remember" essay was wonderful [My Thoughts Exactly, Nov./Dec., p. 104]. I saw my dad in the letter, and now many friends going through aging. It is good to have the memories, and friends help. The Penn State logo and hat bring lots of conversations, too. It is our time to do the special things, reconnect, to turn the music up and get that favorite book out. All that education and those skills to organize and plan for the future with our loved ones. I have shared the Penn Stater essay with many friends—tears and hugs galore. Being an older alumnus is a plus, but that close-knit group gets smaller every year. We are, for the glory.
Mike Stautner '65 Eng
Columbia, Tenn.
CORRECTION
In our In Memoriam profile of Christine Ratvasky [Nov./ Dec., p. 92] we mistakenly stated that Christine was a college friend of Patricia Lee and Sandra Fischione Donovan. In fact, they met last year as part of the Class of 1972 Reunion committee. Stephanie Stankus was a college friend of Christine's, but not a member of the committee. We regret the error.