A Vote For All
Thank you for the coverage of Black lives and some history of women of color ["Many Shades of Freedom," Nov./Dec., p. 40] who fought for equality at the ballot box in your latest issues. Reading stories written by Penn Staters who have dealt with racism in their everyday lives should bring the issue of systemic racism a little closer to heart for all Penn Staters. Most students attend college to attain specialized knowledge to hopefully create a satisfying future, but another benefit that most realize is a greater understanding of people who may have much different backgrounds from what we grew up with. The Penn Stater is a driving force and I commend you for devoting the space to address these issues. Hopefully people will continue to speak out.
Robert Firestone '67 Agr
Seattle

Prexy Eisenhower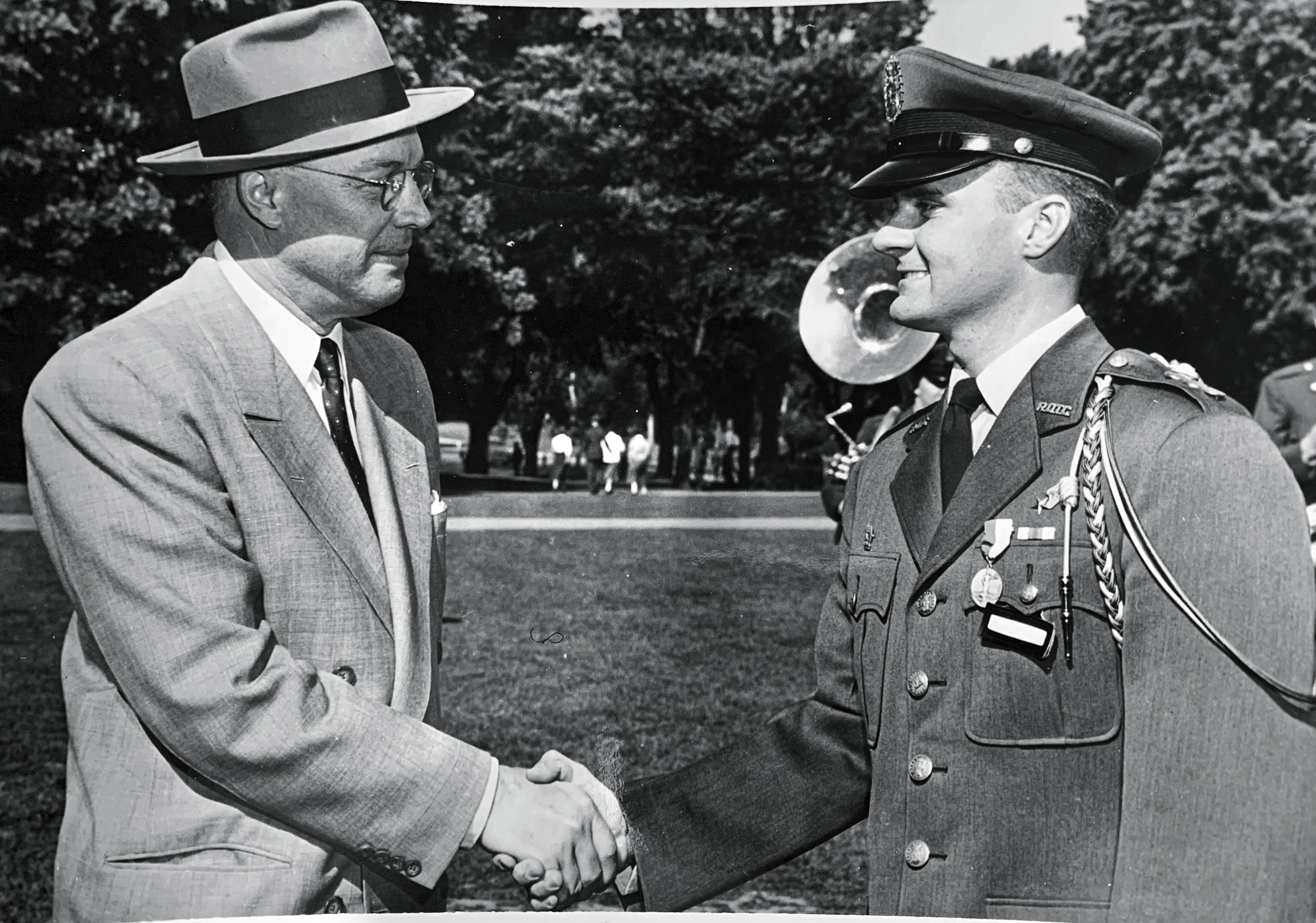 My meeting with Milton Eisenhower ["The Politician," Nov./Dec., p. 32] took place during the spring of my freshman year. As I was walking down the Mall, I was stopped by none other than "Prexy." After introducing himself, he inquired regarding my performance during the fall semester. My nearly perfect 2.94 GPA earned me kudos! I felt relieved that I did not have to reveal that the only B that I received was in Ag 100, which I had cut two or three times to play golf. Prexy's older brother was inaugurated as President of the United States the following week. That May, both Ike and Mamie came to State College for a visit. Many members of the student body held a vigil on the Mall hoping to see Ike.
Ed Glass '56, '66 PhD Agr
State College
I had the great privilege of shaking the hands of both Milton and Ike Eisenhower during my undergraduate days. Milton awarded me a medal for "Outstanding Junior Cadet, AFROTC, 1953-1954" during a Parade Review in front of Old Main. At the 1955 Centennial Commencement Ceremony, I was designated "Distinguished AFROTC Graduate" and went on stage to shake Ike's hand (below) and accept the commissions for AFROTC graduates. I appreciate the article by Michael Weinreb, and I regret not asking Milton to sign my photo.
Jack G. Conner '55 EMS, '57 MS Bus
Columbus, Ohio
Your article about Milton Eisenhower was a disappointment. You freely admitted his involvement in the formation of the Japanese internment camps during World War II, an act officially condemned by the U.S. government as racist and demanding reparations, but attempted to downplay it. There is no excuse for facilitating a war crime, certainly not that "He sought to minimize the pain for Japanese-Americans relegated to the internment camps." Insisting that "It was a terrible assignment, and Eisenhower recognized it as such" doesn't justify his involvement. Owning our history is the least you owe your fellow Penn Staters, not to mention the people forcefully imprisoned based on their ancestry.
Michael W. Johnson '13 Sci
Stamford, Conn.

Serving Veterans
Robyn Passante did a wonderful job detailing the origins of the Student Veteran Center ["Home for the Brave," Nov./Dec., p. 48] and the changes over the years that the university made helping veterans transition to college. Brian Clark and Eugene McFeely each deserve another medal for the job they've done developing this program. Hoo Rah! I can't wait to visit the SVC the next time I'm on campus.
Ron Kochman '68 Lib
Kenilworth, Ill.

More On Black Voices
I'm stunned (though sadly not surprised) at the number of letters you received [Letters, Nov./Dec., p. 9] from alums who couldn't "bear to read" and had to "immediately throw away" the Black voices issue. Such poorly veiled hate from people proud to admit they wouldn't even try to understand. Open your minds, hearts, and eyes. Do it for the glory.
Jennifer Larkin LeKites '96 Sci
Middletown, Pa.
The responses mirror the polarization that exists within our country. Although I was disappointed with some of the views, I remain resolute. In the words of Ibram Kendi, "Once we lose hope, we are guaranteed to lose." Hope is important, but insufficient. I encourage the Penn Stater to continue shedding light on important and controversial issues recognizing that there will be blowback. I and many other alums stand with you.
Tom C. Hogan '77 MPA Lib, '83 MRP IDF
Boalsburg, Pa.
Thank you for including negative viewpoints; they reinforce my view that systemic racism continues to exist among our graduates. For those who welcome critical thinking, I recommend reading Caste: The Origins of Our Discontents, by Isabel Wilkerson.
Ron Armillei '59 Bus
Orlando, Fla.
I am a middle-aged Caucasian female who would not have been considered biased. However, I did feel during this time that I needed to examine and strengthen my relationships with friends and colleagues of color. Since many alums, young and old, relish repeating the phrase "We Are . . . Penn State," I believe we should all realize what it means and treat all Americans the same regardless of the color of their skin.
Heather C. Racchini '00 Bus
Pittsburgh
I reflect back on my time at Penn State and recall only one Black graduate chemistry student. I also remember a Black student coming into the barber shop where I was waiting and being told by the barber that he "didn't know how to cut a Black man's hair." At the time it didn't register—but I've remembered it all these years, so I guess it did.
Herb Skovronek '61 PhD Sci
Morris Plains, N.J.
As an old white male, I am so tired of hearing people like me say, "Focusing on these problems ignores our progress; why can't we just be color blind?" Well, because we have only begun to level the playing field. We are only decades removed from the worst Jim Crow laws in the South and legal segregation of neighborhoods in the North. We all swim in the water of institutional racism and unconscious bias. Suggesting that we have moved beyond racism ignores its impact on people of color today. Success for them has come at a much higher price and was much harder to achieve than mine, and that has had a profound negative impact on the wealth and health of their families. We can't overcome racism until we acknowledge its continuing impact and people like me examine our privilege with brutal honesty.
Doug Allen '73 Lib
Truckee, Calif.
I would have thought that a Penn State degree would mean that your readers would at least take the time to attempt to understand the Black Lives Matter movement. As Steven Covey wrote in Seven Habits of Highly Effective People, "Seek First to Understand, then to Be Understood." I think more than a few missed this lesson and maybe one of the purposes of a "higher" education. Keep speaking out!
John Hayes '71 Sci
San Diego
I, too, "am from the old school." I'm 84. I, too, "have seen a lot in my lifetime" but have always recognized that the perspective from which I've seen it has been one of white privilege. I don't find anything about the Black Lives Matter movement to be "truly disgusting." To the contrary, I hope it's a small step toward a beginning of a more just, equitable, and empathetic society.
Harris Factor '58 Lib
Columbia, Md.
Thanks for the extended letters section. These responses showed why the Black Lives Matter movement is so important. To know that focusing on Black Penn Staters for ONE ISSUE would draw such ire illustrates how very far our nation—and Penn State—has to go.
Jeanne Yocum '68 Com
Durham, N.C.
I am appalled and disappointed at the vitriol expressed by some readers. It saddens me to think that college-educated people would burn the magazine, throw it out after looking at the cover, or be offended because it was "taken over" by the issue of Black lives. The Penn Stater took a bold step, elevating their voices so that others may better understand their challenges and our university's history. I am disturbed that so many can dismiss the relevance of this issue. This type of hatred diminishes all that "We Are" represents.
Carolyn Piucci Pemberton '83 Com
Springfield, Va.
The Sept./Oct. issue demonstrates both the real progress at Penn State, and the work that remains to be done. As alumni we have a responsibility to the whole community in what we say, do, and write. We need to bear in mind the words of our Alma Mater: "May no act of ours bring shame, to one heart that loves thy name."
Arnold C. "Chet" McQuaide '65 Eng
Berkeley Lake, Ga.
Thanks so much for the Sept./Oct. issue. The stories were great and reinforced for me how clueless I was on race in the late '70s. I'm learning, but still have a lot to learn. Many seem to feel that dedicating the issue to the Black experience at Penn State is unfair. Did the letter writers complain in the past when most issues for decades were almost entirely focused on the white community? Or why there was almost no Black student community at all to write about?
John F. Gallagher '79 Sci
West Chester, Pa.

Remembering Patti
What a wonderful tribute to Patti McNally [From the Editor, Nov./Dec., p. 7]. We had our two girls at Childspace from 2007–11. That place was truly a remarkable experience. I don't think people realize how incredibly dedicated to children Patti, Sylviane, and Suzi were. We still have Patti's photo albums for each girl, so thoughtfully done. She was and is truly an angel. Thank you for honoring her so!
Bobbi Melchiorre Knapp '88 Bus
State College

Steam Building
I just want to thank you for showing the new Steam Services Building ["Then & Now," Nov./Dec., p. 17]. Being a 1979 architectural graduate, it was an honor to be the architect and project manager. This project means more to me than any of the other major projects I helped develop during my career.
Keith G. Falco '79 A&A
Landisville, Pa.

COVID ContradictIon
I appreciate your keeping us informed about how Penn State is addressing COVID-19. But I find your message in the Nov./Dec. issue conflicting. "Game Plan" [Nov./Dec., p. 26] ends specifically: "Penn State confirmed that tailgating would be prohibited on campus." Yet the two-page photo spread immediately preceding shows five people with a Beaver Stadium parking lot all to themselves. "It was a perfect day for tailgating," your text suggests. I'll accept the occasion may have preceded the Big Ten decision, and maybe those fans were a pod unto themselves, but they were social without distancing and not a mask in sight. From all I've read and heard about Penn State's COVID-19 policy, that's not a perfect day.
Charles Bierbauer '66, 70 MA Com
Columbia, S.C.