ALAN WIGGINS
Current role: Ensemble player in Beautiful: The Carole King Musical
"It's more the music of my parents' generation," Alan Wiggins says of the parade of pop classics that form the soundtrack to Beautiful, "but the music is wonderful. I always say, if your parents had halfway decent taste, you know these songs."
That Broadway audiences are getting to know Wiggins '10 A&A is a testament to the value of second chances—in this case, one he gave himself. The Baltimore native attended Catholic University for a few years before diving into regional theatre, where he eventually met Anthony Romeo '06 A&A, a recent Penn State theatre grad. "I wanted to go back to school, but I was complaining, 'It's gonna be so hard…,'" Wiggins says. "Anthony, I'll never forget, says, 'Why do you think it's supposed to be easy?' A light bulb went off. I decided I was going to go back to school, and he said I should really look into Penn State."
In 2012, two years after finishing school, he landed a "swing" spot in The Lion King that required him to know seven parts, any of which he might be asked to fill on a given night—usually on two hours' notice. He also filled in extensively for Simba, a part he says "wasn't really on my radar, but ended up being a dream role." He left The Lion King in January 2014 to join Beautiful, where he plays a member of The Drifters, who sing King-penned classics like "Up on the Roof." It's a nightly reminder that his parents' music holds up. "I love to hear people singing along," he says. "It means they're having a wonderful time."
CAROLINE BOWMAN
Current role: Elphaba the witch in Wicked
The marquee of the Gershwin Theatre, home to the long-running hit musical Wicked, is easily visible through the windows of the packed Starbucks on 51st and Broadway. It's unlikely that anyone here on a recent weekday afternoon recognizes the show's star seated among them. Out of costume, only Caroline Bowman's green fingernails might give her away.
Since December, Bowman '10 A&A has played Elphaba, the misunderstood "wicked" witch she first encountered live when she got tickets to Wicked as a 16th birthday present. Growing up watching her mom in community theatre productions in her native Maryland, Bowman knew from an early age she wanted a life on stage. Her first true leading role came in a Penn State production of A Man of No Importance, playing Adele, "a very quiet character—kind of unlike me in real life," she says with a laugh. "It was the first time I could really dive into a character and know what that felt like."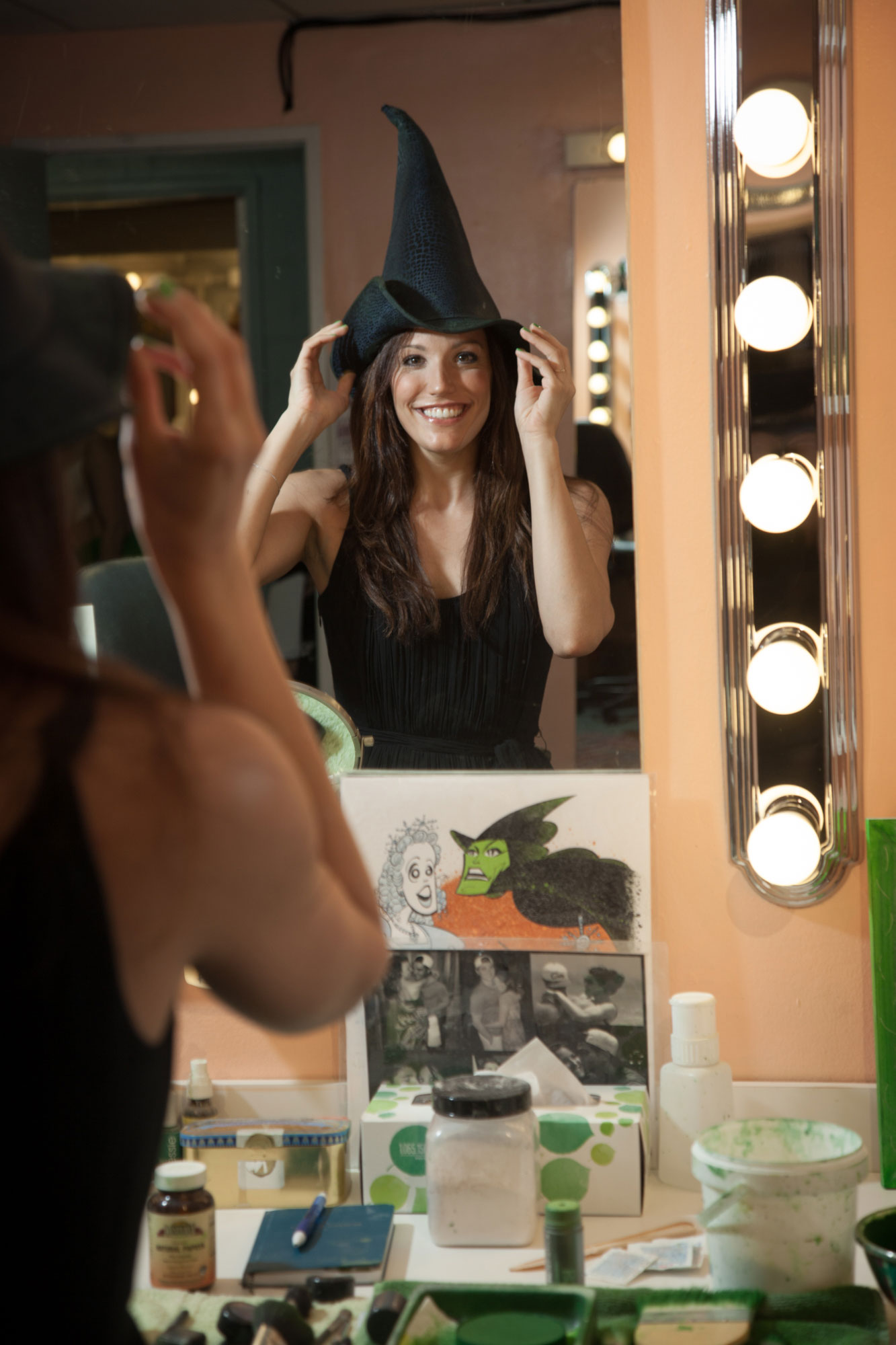 She's had plenty of chances since: After making her Broadway debut as an understudy in Wicked a few years ago, Bowman landed a role in the original Broadway cast of Kinky Boots, then played the title role in a national tour of Evita. Her current run could be over by September—it's a grueling, eight-show-a-week schedule, and she's the 17th actress to play Elphaba since the show debuted in 2003—leaving the obvious question: How do you top the role of a lifetime? "No matter how high you get in this business, you're always looking for your next job," she says. "But I also miss my family, and it'd be nice to have the holidays off. If I'm supposed to be babysitting or waiting tables for a while, that's OK."
AUDREY CARDWELL
Current role: Ensemble player in national tour of Cinderella
When we caught up with her this summer, Audrey Cardwell was in Dallas, just one stop on a national tour that began last October and runs through next May. The Alabama native lives in Queens, but she hasn't seen home in months. In fact, when we spoke to her, Cardwell didn't technically have a home: Given the extended tour, she had recently put her stuff in storage and decided not to renew her apartment lease. "I have no address," she says with a laugh. "Luckily, I have an amazing foundation of friends, and almost all of us are in theatre. This is what we do."
Cardwell '12 A&A is something of a road warrior: Cinderella is her third national tour, following stints in Elf and Anything Goes. She's primarily an ensemble player and understudy in the Rodgers & Hammerstein musical, but for two months last spring, Cardwell was Cinderella herself, filling in for the show's usual lead during an extended absence. "I love ensemble work, but to get the chance to take on this role, do it every night, it was just an all-around awesome thing for me," she says. "When I stepped back into the ensemble, there were multiple moments where I'd start to step forward and go into Cinderella's blocking, then, 'No no no, I'm not doing that tonight.'"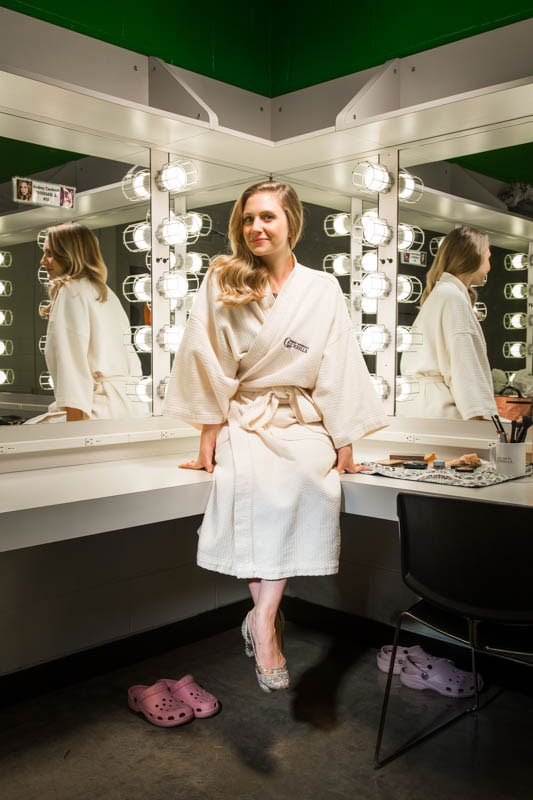 Cardwell says the travel isn't bad—the cast and crew generally fly between cities, and there's "plenty of time to sleep"—but the wear and tear of performing takes its toll. "We're doing these dance numbers in huge ball gowns eight times a week, and your feet, knees, and hips are really hurting," she says. Just three years out of college, Cardwell says, "I know I'm not a teenager anymore."
BOB ETTER
Current role: Sound mixer for Hedwig and the Angry Inch
When Bob Etter '77 A&A moved to New York City in the spring of 1979, at the tail end of one of the worst winters in recent memory, snow-covered trash was still piled high on the sidewalks. His Brooklyn apartment (no toilet, no heat) ran him $50 a month, or a quarter of his monthly salary as a soundman at the Manhattan Theatre Club. He's come a long way: Nearly four decades later, the 60-year-old Etter is the dean of Broadway sound mixers.
That career path didn't exist when Etter left Penn State. "There was no real recognition of 'sound' in theatre then, other than we would make effects tapes," he says while testing audio levels at his soundboard before a recent Hedwig performance at Broadway's Belasco Theatre. "The adage was, 'Everybody knows their job—and sound." The popularity of A Chorus Line helped change that, and over the next 30 years, improving technology and the dedication of pros like Etter turned an afterthought into a craft. "Now," he says, "when I move a fader here or change an equalizer there, I know exactly what's going to happen."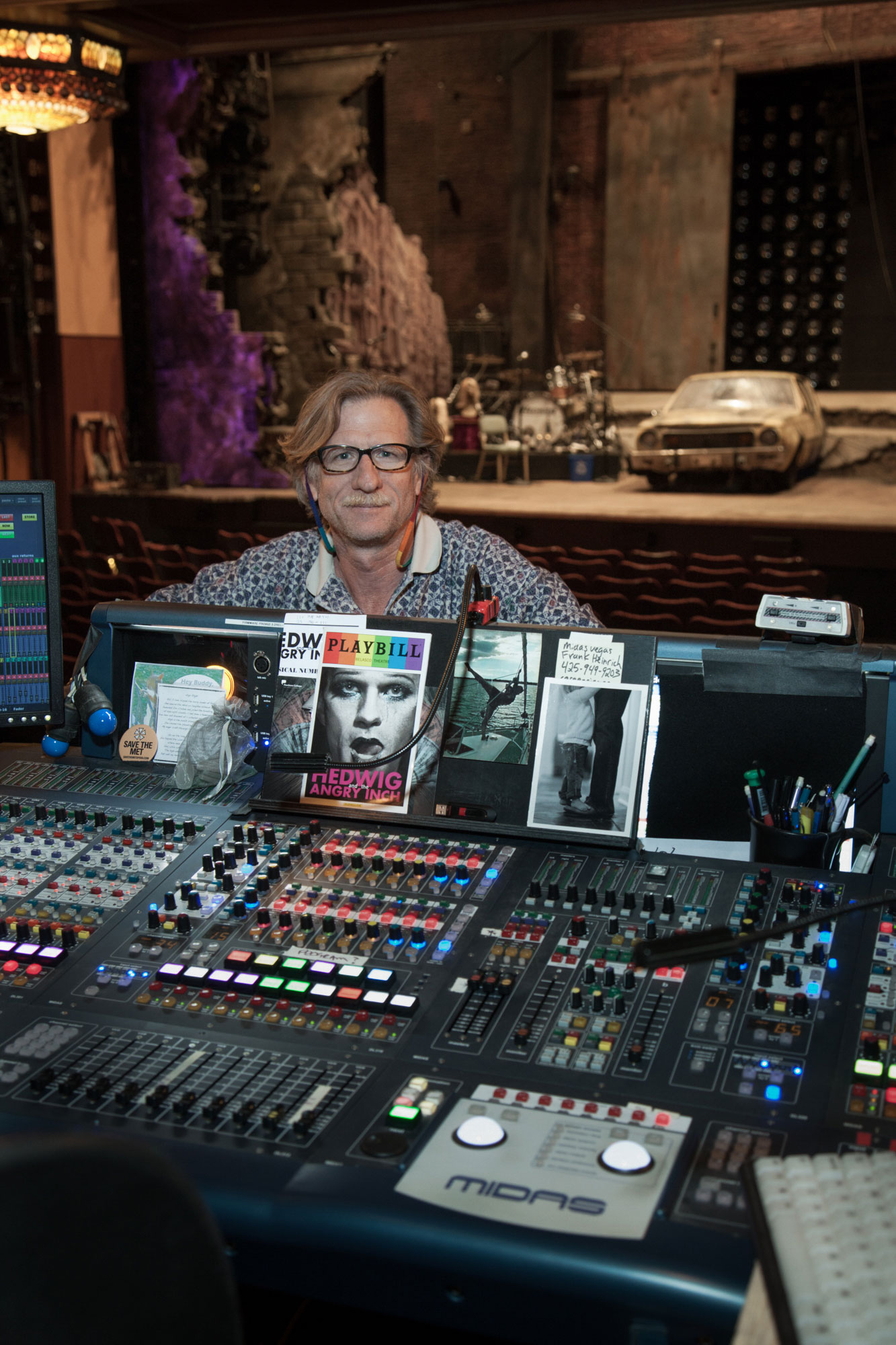 In Hedwig, the late '90s off-Broadway sensation that won a Tony Award for best musical revival when it hit Broadway last year, Etter has found a perfect outlet for his talents—and tastes. He ran the soundboard for Phantom of the Opera early in its record-setting run and also spent three years mixing Rock of Ages, but says, "This is the show I've always wanted to do. There's nothing wrong with traditional musicals, but this is rock 'n' roll."
NATALIE WEISS
Current role: Singer, actress, voice coach
Natalie Weiss laughs when she says she's "YouTube famous," but as her 28,000 YouTube subscribers (not to mention 14,000 Twitter followers) make clear, it's not really a joke. All those fans are a testament to Weiss's talent, and to her unusual niche. In short, she's a theatre star who keeps just one toe in the theatre.
"I always wanted to be a pop star," says Weiss '07 A&A, who grew up dreaming of being the next Mariah Carey. "I wanted to be famous, and I figured musical theatre was the best route to get there."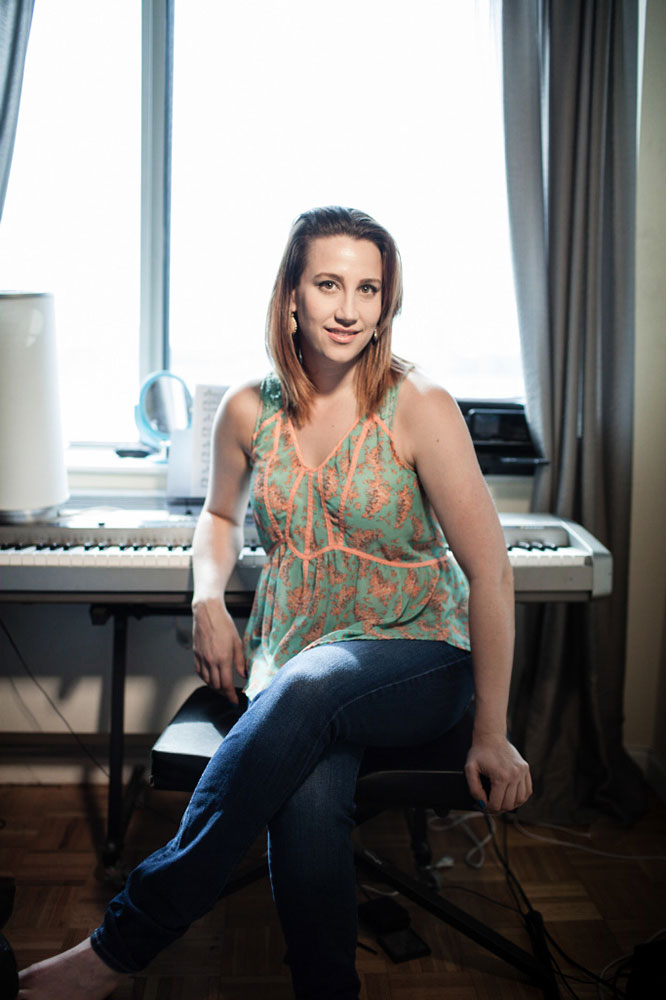 Her theatrical bona fides show she took that route seriously. She made her Broadway debut in 2010 as an understudy in Everyday Rapture, and she's been cast in national tours of Wicked and Les Miserables. But she's best known for her voice, a reputation she built mostly by accident: In 2006, a friend posted a "funny little piece" she sang on YouTube. "I was like, 'What's YouTube?'" she says. "But I started putting out videos because I knew people were watching, and I've been fortunate that it's led to so many amazing experiences around the world."
She's since posted more than 30 instructional videos in her YouTube series, "Breaking Down the Riffs," all while traveling, teaching, performing cabaret-style concerts (including a headlining gig at Manhattan's Highline Ballroom in July), and, occasionally, still dabbling in theatre: She spent part of her summer in upstate New York playing Candy in the stage version of Saturday Night Fever at the Finger Lakes Musical Theatre Festival. It's still a route she knows well.
ADAM JEPSEN
Current role: Ensemble player in Chicago
Within a month of moving to New York City, Adam Jepsen '12 A&A was offered roles in two Broadway shows. Then he had to pick one. On his agent's advice, he chose a spot as a swing and understudy in the original cast of Cinderella over an ensemble role in Chicago.
"His perspective was, 'Look, Chicago isn't closing anytime soon,'" Jepsen remembers. "The hope is that if they want you now, they'll still want you in the future."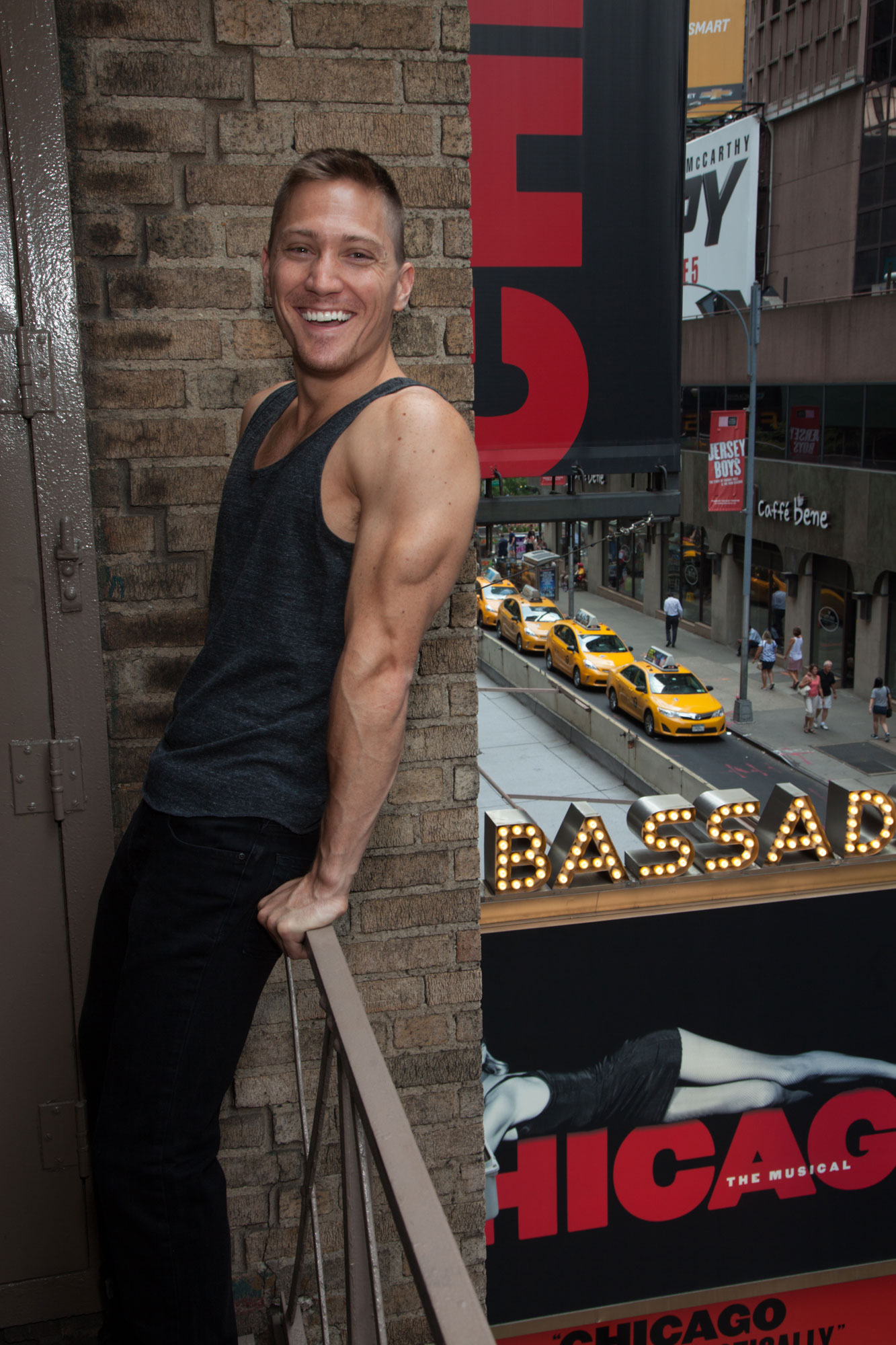 It was good advice. After 10 months in Cinderella, Jepsen re-auditioned for Chicago, which was soon to become the second-longest-running show in Broadway history. "It was awkward, because you have to live up to what you did a year earlier," he says. "Thank God they hired me." He's coming up on two years in the show, a run he has yet to tire of. "The score is amazing," he says. "It's rare that you can do eight shows a week and not go crazy when you hear the songs. There's a reason it's been running 19 years."
Jepsen can relate to that consistency: He's been working without a break since he moved to the city—a run that began before he even finished school. He took a yearlong break from classes in 2009–10 after winning the role of Scarecrow in the national tour of The Wizard of Oz. (Readers might remember him from our Nov./Dec. 2010 issue.) It's experience most of his stage peers would envy, and conversely, it's part of the reason that Jepsen is thinking about a different stage: He's had roles in a number of small indie films. Not that he takes his success for granted. "My dream when I moved to the city was to live comfortably and do what I love," he says. "It's been great."
TIM LOVE & KELLY ICE
Current roles: Freelance stage managers
For performers, it's all about auditions. For stage managers, it's all about who you know. For behind-the-scenes crew like Kelly Ice '07 A&A and Tim Love '12 A&A, the connections made on one job are vital to getting the next one.
"Even before my last show ended, I was contacting people I know to say, 'Hey, my show's closing, I'm looking for work,'" says Ice. "The more experienced you are, the more it's about personal connections."
When we spoke this summer, Ice was working as the assistant stage manager at the Vineyard Theatre near Union Square­—coincidentally just a few blocks from where Love was working as the stage carpenter at the Union Square Theatre. They weren't classmates at Penn State, but met as peers during overlapping stints at the Roundabout Theatre Company earlier this year. Their similar gigs now bely very different paths.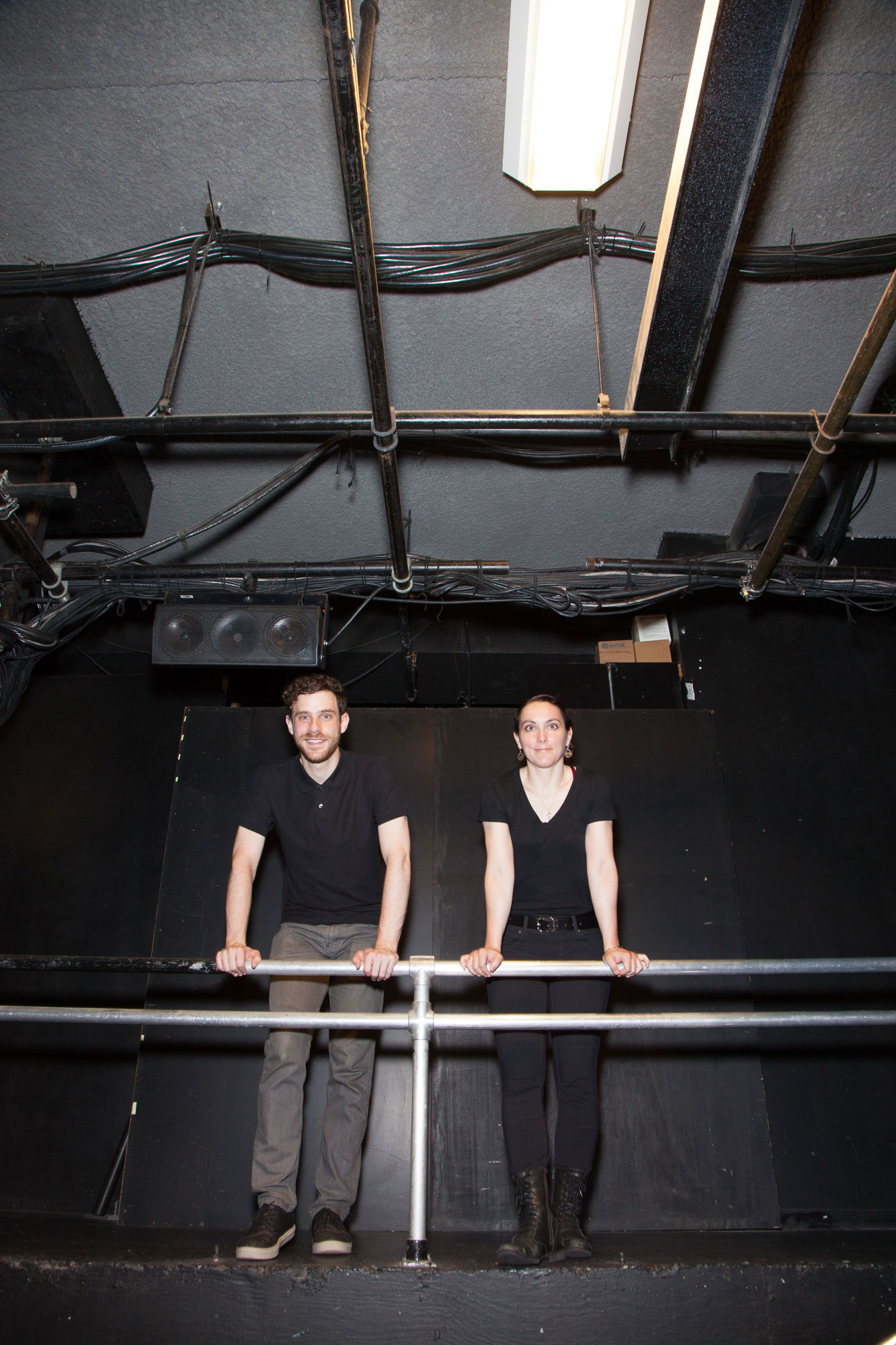 "In high school, I was sort of stage managing, and our director said, 'You're organized, you're detail oriented, you could go to college for this,'" Ice says. "That really opened up my possibilities. I'd never thought of it as a long-term career."
Love started on the musical theatre track, then considered directing before turning to stage managing. As stage carpenter in his most recent show, he did everything from operating pulleys on cue to keeping an eye on floorboards that might loosen in the humid New York summer air.
Whatever their gigs lack in stability, both enjoy the routine of working a show and the flexibility in between. "I just knew I didn't want to sit behind a desk," Love says. "This has been good to me."
MIKE KARNS
Current role: Social media manager, producer, entrepreneur
"I went to college knowing I wanted a career that blended my artistic interests with my business acumen," Mike Karns says. "But I had no idea what that was."
A string of internships in New York helped Karns '11 A&A figure it out. The last of those was with the prestigious Public Theater, which led to an assistant's job with a production company, where he learned the basics of producing and also became something of a social media expert. His first big splash was helping launch the career resurgence of George Takei, the former Star Trek actor who now boasts nearly 9 million Facebook likes and 1.7 million Twitter followers. All those fans provide a built-in audience for Allegiance, a musical based on Takei's life that's set to open on Broadway this fall, and for which Karns is a producer.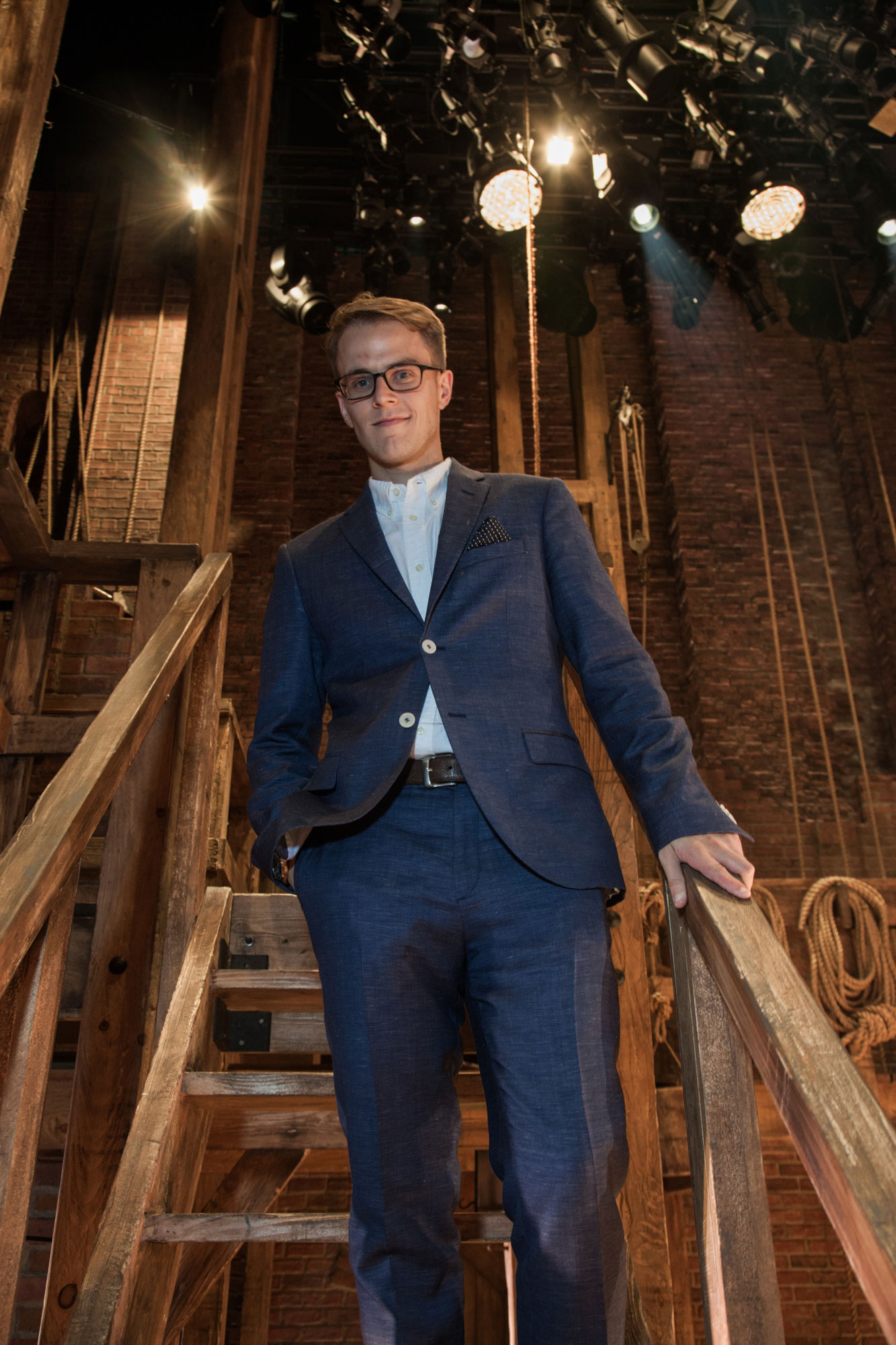 And then there's Hamilton, the wildly hyped hip-hop musical that opened this summer with more than $30 million in advance sales. Karns' company, Marathon Live Entertainment, is handling social media for Hamilton, and within "three or four years," he says, he hopes to be able to raise enough money to produce a Broadway show of his own. In what spare time he has, Karns is focused on expanding his alma mater's presence on Broadway: He's president of the School of Theatre Alumni Advisory Board, and in April he produced a showcase of Penn State alums—including, from these pages, Caroline Bowman, Natalie Weiss, and Alan Wiggins. His motivation? "I love being the person who brings people together."